If you are looking to make the most of your home and keep your independence as you age, you may consider purchasing a home elevator. With a home elevator, you can access every floor of your home with ease. Many people build elevators into their existing homes so they can stay mobile as they age. In-home elevators also allow you to keep the same house you've lived in for years. If you're considering installing a residential elevator, you're probably wondering how long the process will take.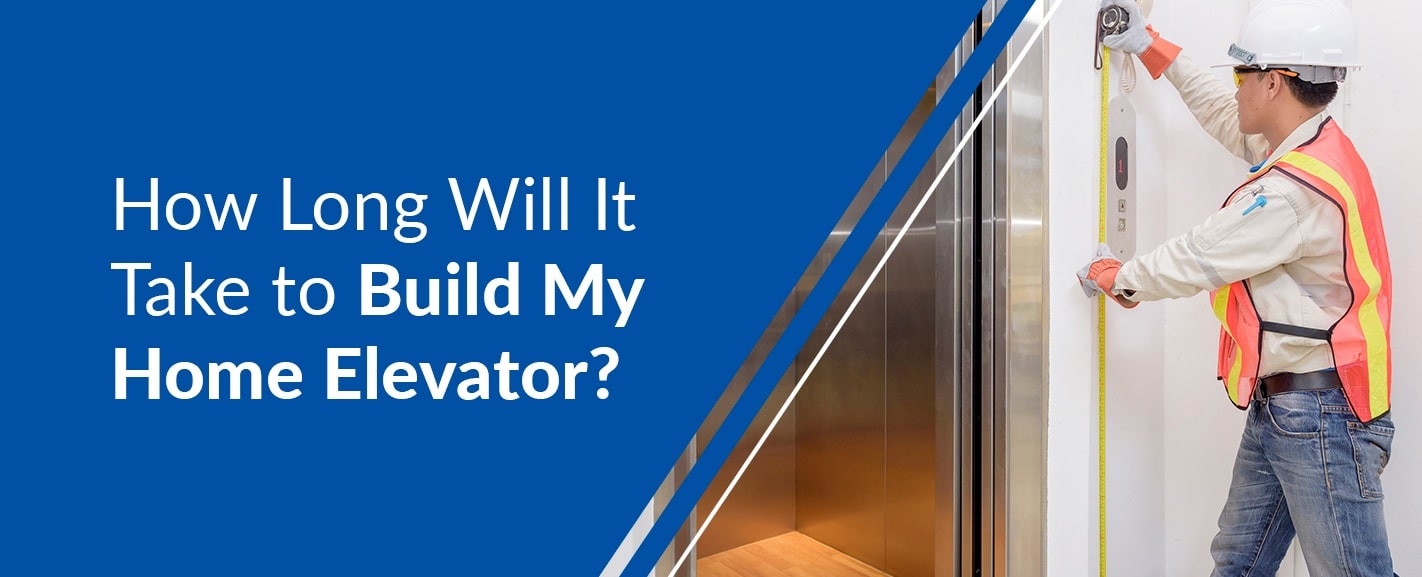 Here at Inclinator, two of the questions we get most frequently are, "How long does it take to build an elevator?" and "How long does it take to install an elevator?" The length of the rest of the process will depend on how long it takes you to make the right decision. You might wrestle between two cab designs, for instance. Or, maybe you know exactly what you want. If so, that part of the process will be a bit shorter. You should feel confident in the choice you make, so don't rush.
Getting Quotes
The first step to installing a residential elevator is to understand the cost. When installing an elevator in your existing home, you will need to have a system custom-built to work in your home. We build each elevator to order so the machinery will fit in your home and stop at each floor of your house. Because of the highly-customizable nature of in-home elevators, we recommend you find a dealer near you to help you through this process.
Using our online request form, you will fill out some information about your project:
After you fill out our online form, your local dealer will call you and ask you a series of questions about your project. Through this conversation, our elevator professionals will learn about the construction of your home. Then, they will help determine what kind of elevator will fit best. The number of floors you have will be one of the determiners of cost. The more floors you have, the more stops your elevator will need to make, and the more complicated the installation. There are several things you should discuss to receive the most accurate quote.
At Inclinator, we offer fast quotes through our local dealers. After you submit our contact form, an Inclinator dealer will call you back promptly. You'll then receive a reliable estimate after a short phone call. You should budget 15 minutes to half an hour for each company you consider. This conversation will allow the dealers to get as much information as they can about your home, so they can provide you with an accurate quote. You may need a week or two to gather each of these quotes, and discuss your options with your contractor.
Choosing a Company
As you gather quotes from several elevator companies, you will start to understand where each price range falls. The cost is one factor of many you should consider while selecting the right elevator company for you. Other factors include: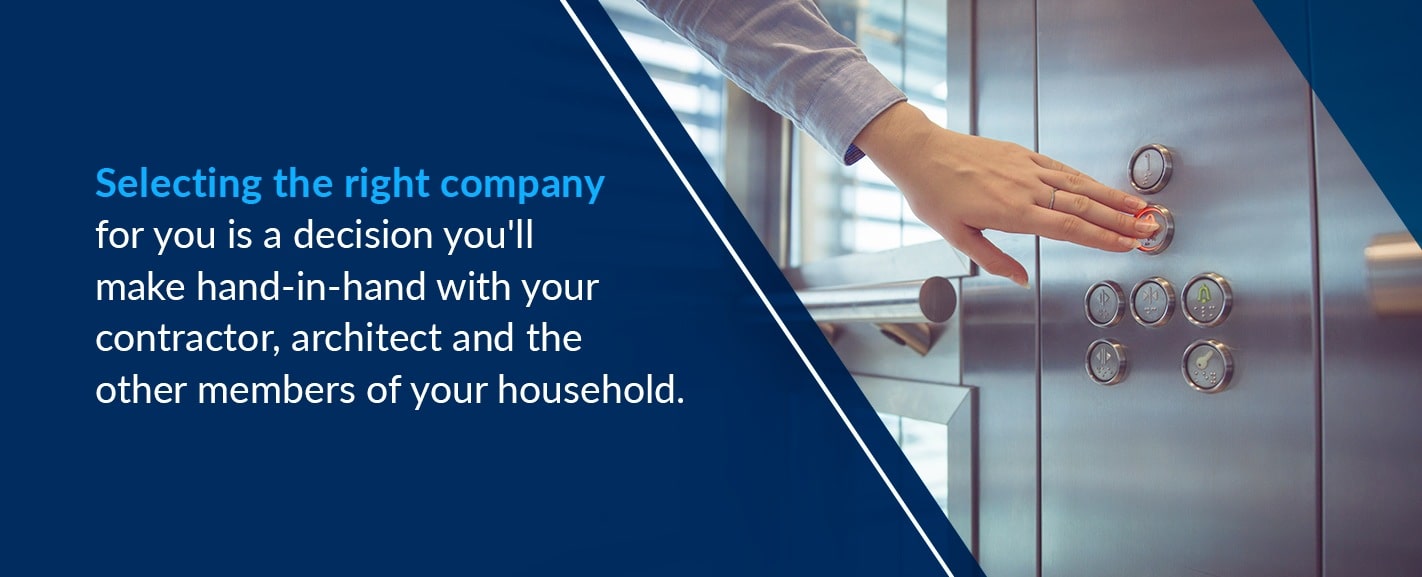 Selecting the right company for you is a decision you'll make hand-in-hand with your contractor, architect and the other members of your household. Do your research on each company you are considering. How long it will take to make a decision depends on how much time you wish to spend. You may need to find a time to sit down and weigh your options alongside your builder. You might also want to do extensive reading on each company you consider.
Planning Where the Elevator Will Go
Your home's layout will play a large part in determining the best place to install your elevator. When retrofitting your home with an elevator, you may need a dedicated room for the engine. The cable drum drive system requires a separate engine room, so it needs less overhead room. Other elevator drive systems, such as our motor roomless (MRL) elevators, have a self-contained system, which doesn't need a separate engine room. Motor roomless elevators will need more overhead room.
For the elevator itself, you will need space cleared for the elevator shaft. Most of our cabs are standard 15-by-15 feet. We also offer the option for a smaller cab, which is 12-by-12 feet. With any car you choose, you will need about 1 foot of extra space on each side to house the elevator shaft. The contractor you work with on this project can help you figure out the best area to clear space for your elevator.
Many homes have a layout that simplifies the process of building a shaft. If your home has closets in the same location on each floor, it's quite simple to carve these existing closets into an elevator shaft. If you do not have a stacked closet layout, your contractor may need to build an addition to your home for the elevator shaft. No matter where you place your elevator, you will also need a pit between 6 and 10 inches deep and up to 10 feet of extra clearance overhead.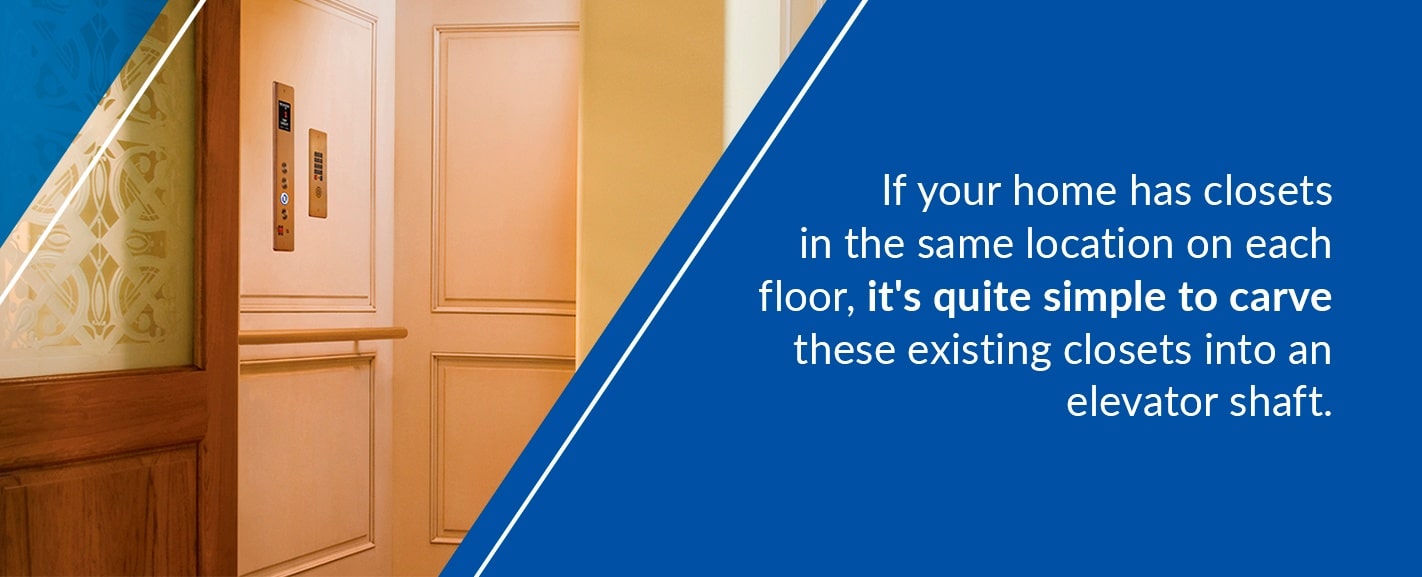 You'll also want to consider convenience. You may want an elevator near the main rooms such as your bedroom and your living room, for example. As you discuss the plan of where to place your elevator with your contractor, you may discover the need to take on more construction. The timeline for this will depend on the work you need done and what your contractor can accommodate. The next step in the process is to design your cab and have it built to your specifications. So, you may be able to move on to this step while your home is under construction.
Designing the Elevator
Next, you will select from many cab designs and drive styles. At Inclinator, we offer six cab designs. You can choose a look that will match your home's interior and your decorating preferences. Our standard cab features white walls that can be painted to match the color of your home, as well as beautiful laminate flooring. Our upgraded models offer a selection of wood or aluminum finishes.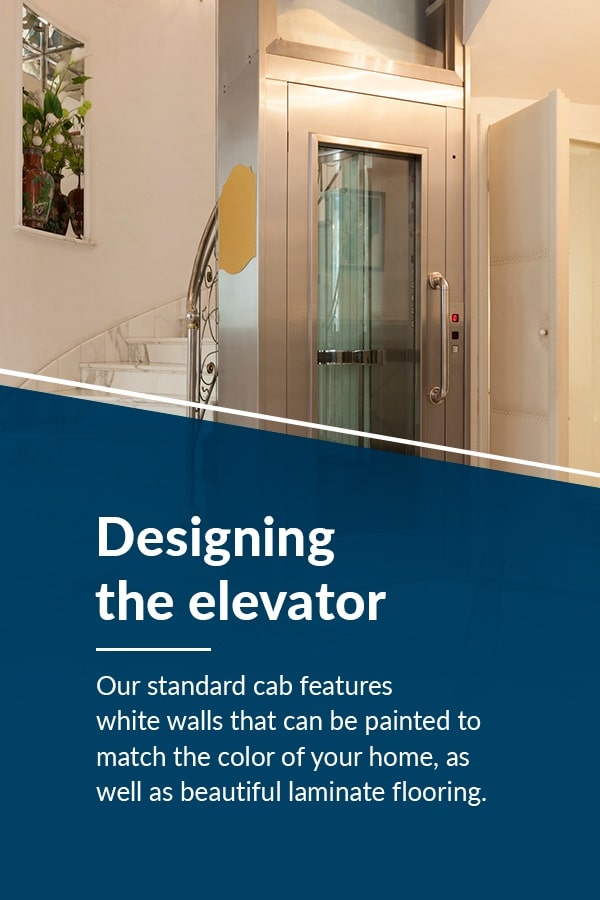 You will also select a drive system for your elevator. We offer three drive systems, including the Cable Drum, the Hydraulic and the MRL Cable Drum. These will each travel up to 50 feet high with up to six stops. They each come in both 1,000- or 500-pound capacities. Work with one of our licensed dealers to help you determine which drive system will fit best with your home and your lifestyle needs.
We break down the entire process of designing and selecting the right elevator for your home in our free ebook. After you choose the cab design, drive system and other features, your elevator will be custom-built. Custom building a home elevator will take four to eight weeks. We recommend you begin working on construction to retrofit your elevator while it is manufactured.
Installing the Elevator
Before we install the elevator itself, the site must be prepared. Your contractor will need to dig the pit and build the hoistway. If the elevator needs a separate engine room, this room must also be constructed before the wiring gets prepped for the installation. All construction and preparation will depend on how fast your contractor can work. After your contractor finishes building the hoistway and begins to set up the wiring, the home elevator installation process can begin. 
At Inclinator, our professional installers take great care to protect your home before installation begins. We cover all floors and furniture, and after the elevator is installed, we test the elevator to make sure it is working properly. A simple two-stop elevator installation will take approximately four days to install with two technicians working on it. Each added floor will add an extra day to the installation. Only Inclinator licensed dealers can install our elevators, and our dealers are well-trained, experienced and efficient installers. Our elevators also come pre-assembled, unlike other in-home elevators. Since our elevators come ready-to-install, the process is much faster.
Contact an Inclinator Dealer Near You
Many of the steps in the elevator selection and installation process will have varying timelines, depending on your schedule and how quickly your contractor can construct the elevator shaft.
All Inclinator elevators meet or exceed international codes and have robust safety features, so our in-home elevators are reliable and secure. We have nearly a century of experience, and most of our employees have a 30-year tenure with our company. With such vast expertise in both our manufacturing process and our local dealerships, we offer residential elevators you can trust. If you are ready to fit your home with a stylish and functional Inclinator elevator, find a dealer near you to get the process started. 
If you have questions about our cabs, drive systems, add-on features or anything else, please feel free to contact us. We can put you in touch with your local dealer and guide you through each step of the in-home elevator selection and installation process.
Latest posts by Cliff Warner
(see all)