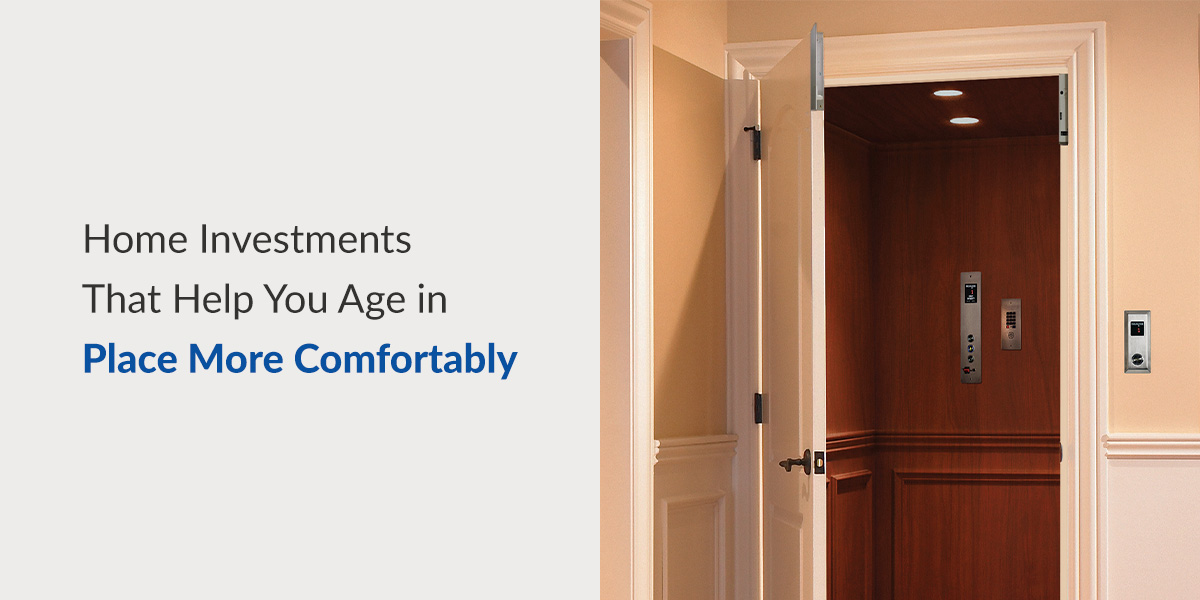 For older adults or people with mobility issues who want to remain in their homes, certain circumstances sometimes prevent them from living comfortably or performing daily tasks efficiently. However, with smart investments, home modifications, use of available resources and careful financial planning, aging in place can become a reality.
Because your home needs might change in the future, planning ahead can often be challenging. The first step is to consider the types of help or home remodels for aging in place that may benefit you immediately. Although stairways are often the most significant obstacle for aging in place, home additions like residential elevators and dumbwaiters can help solve these challenges.
Learn more about aging in place and how to invest in your home for more comfortable living.
What Is Aging in Place?
The Centers for Disease Control and Prevention (CDC) refers to aging in place as having the means to live in your home comfortably, independently and safely, regardless of physical capabilities, age or income. Aging in place helps promote self-esteem, a positive quality of life and overall happiness — factors critical for living healthy, comfortable lives into old age.
The American Association for Retired Persons (AARP) shows that 77% of adults over 50 want to stay in their homes long-term — this percentage has been steady for over a decade. As they grow older, these people often need to make home modifications or add supplementary services to maintain their quality of life and facilitate their living conditions. Planning for the future with physical limitations in mind helps adults better prepare for the challenges that may arise as they get older.
Benefits of Aging in Place
The advantages of aging in place are undeniable based on so many adults choosing to stay in their homes as they grow older. Understanding the benefits of independent living and determining whether you or your loved one have the resources to live comfortably is critical for making future living decisions. Familiar surroundings can often enhance an older adult's sense of identity while helping keep them connected socially.
Additional benefits of aging in place include:
Cost savings: Compared to living in an assisted living facility, the cost of aging in place is often significantly less. Choosing long-term in-home care over nursing homes often offers increased cost savings. Many older adults have already paid off their homes, enabling a creative range of options to fund the investments they need to age in place more comfortably.
Safety and health: Assisted living facilities are often overcrowded, limiting the attention and care you or your loved one requires and deserves. These facilities are also a haven for germs and contagious illnesses, making you vulnerable to potential sickness. As long as your home has the resources you need to live efficiently and comfortably, aging in place is the safest choice.
Freedom and independence: Aging in place honors the wishes of the individual. Staying at home enables you or your loved one to plan their day as they choose instead of following a regimented schedule in a nursing home. Being told what to do or forced into an unwanted living situation can often create anger, stress, grief or sadness — all leading to unhealthy living.
Comfort: When someone moves into a nursing home, there are limitations on the items they can bring, including mementos, favorite pieces of furniture and other things that created years of happy memories. People are much more comfortable when sleeping on their own beds, hearing the sounds of their neighborhood and recognizing the smell of their homes. In addition, living at home offers significantly more personal privacy than a nursing home.
7 Home Remodeling and Modification Tips for Aging in Place
Equipping your home with practical modification solutions in advance helps anticipate some of the issues you or your loved one might face when growing older. Removing non-essential items and installing new appliances or equipment can make aging in place significantly easier. Reducing fall and trip hazards is a significant focus. Every year, 1 in 4 people over age 65 fall, leading to 3 million older adults being treated in emergency departments for injuries.
Consider these home modifications for aging in place:
1. Transition Strips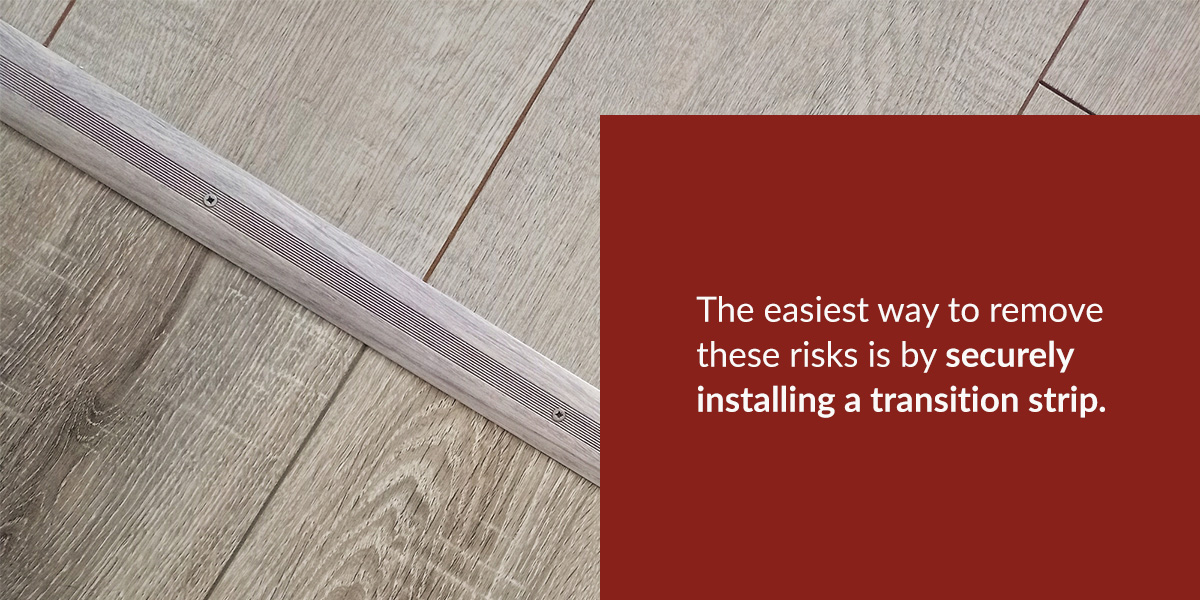 One of the most common obstacles for older residents is the area where flooring transitions from one material to another, specifically when carpet changes to wood or tile and vice-versa. These transitions are often uneven or raised, creating a potential trip hazard. The easiest way to remove these risks is by securely installing a transition strip.
Additionally, if someone has a mobility device and doesn't have the physical strength to lift it over an elevated surface, they require assistance from another person. Sometimes a simple transition strip can give a resident the dignity and courage to proceed with their daily tasks independently. Although many different types of threshold strips exist, choosing one that creates a smooth transition and prevents a hazardous condition is essential.
Depending on the flooring type, vinyl transition strips are often more practical than the wood or metal thresholds typical in older homes. Because they are thinner and more resistant to wear and tear, vinyl thresholds can minimize the risk of tripping while offering a longer service life. Discussing your unique requirements with a flooring professional is always best for more complex projects.
2. Shower Grab Bars
Shower grab bars are critical for anyone with mobility issues. Some older adults become reluctant to shower as frequently as they should because they don't want to risk injury. Shower grab bars can give people the stability and confidence they need to bathe daily, reducing the chance of injuries from falls and infections from poor hygiene.
More importantly, shower grab bars enable older adults to maintain their lifestyles while living independently. Many grab bars are inexpensive to purchase and easy to install, including designs with decorative finishes and features that blend seamlessly with any bathroom. These bars can also double as towel bars to add another element of functionality to your space.
When choosing the most practical grab bar for your needs, select a design that meets your specific weight requirements. Despite their easy and fast installation, it's crucial to place bars at the proper height and screw them into wall studs with approved fasteners to ensure optimal stability. You will likely also need to install some waterproofing where the bar connects to the wall to prevent damage.
Installing grab bars in other strategic locations — including around your toilet — can improve mobility and safety. Be sure to avoid grab bars that attach with suction or are not weight-rated, as relying on these can cause injuries.
3. Dumbwaiters
Carrying supplies, groceries or other items between floors becomes more challenging as you age. Installing a residential dumbwaiter can help you age in place by making your home more accessible, helping you perform daily tasks more efficiently and enabling you to age in place more comfortably.
Inclinator's Homewaiter® residential dumbwaiter is a versatile solution that can help you with various chores around your home, from transporting groceries between rooms and removing garbage to moving items into storage and carrying laundry. We offer sizes up to 24-by-24-by-24 inches with weight capacities of up to 25 pounds and traveling distances up to 35 feet. Our dumbwaiters include features to ensure the highest safety, including manual overrides, interlocking doors, emergency lighting and built-in phones.
Inclinator can build a customized dumbwaiter according to your design preferences and specific functionality requirements. Options like stainless steel or hardwood veneer cabs allow you to create a personalized look that blends seamlessly into your home. Select from numerous finishes for your collapsible cab gate to create a unique feel.
Inclinator's dumbwaiters are controllable from any floor and operate on a standard 120-volt current from your home's electric supply. Your local Inclinator dealer can walk you through additional specifications and planning guides to help determine which configuration best meets your unique needs.
4. Ramp Access and Platform Lifts
Homes with porches require residents to climb one or more steps to arrive at their front door. This process becomes more complex as you age, even for people without mobility aids. Older adults who can walk independently but struggle with balance often find navigating these steps challenging. It's even more difficult in winter, when feeling things with your feet can be harder and uneven or icy surfaces increase the risk of falling.
Two solutions that can help address these issues include:
Outdoor ramps: Ramp designs come in various shapes and sizes to accommodate specific mobility issues. When installing an outdoor ramp, ensure it can accommodate a wheelchair to proactively prepare for the future, even if you currently don't use one. Although these options typically require an experienced professional for installation, they're well worth the investment in the long run.
Platform lifts: A residential platform lift works similarly to those installed in modified passenger vans. It can raise and lower a wheelchair, enabling a person to get from the ground to the top of the porch and enter the door. Like an outdoor ramp, these platforms require professional installation.
5. Handrails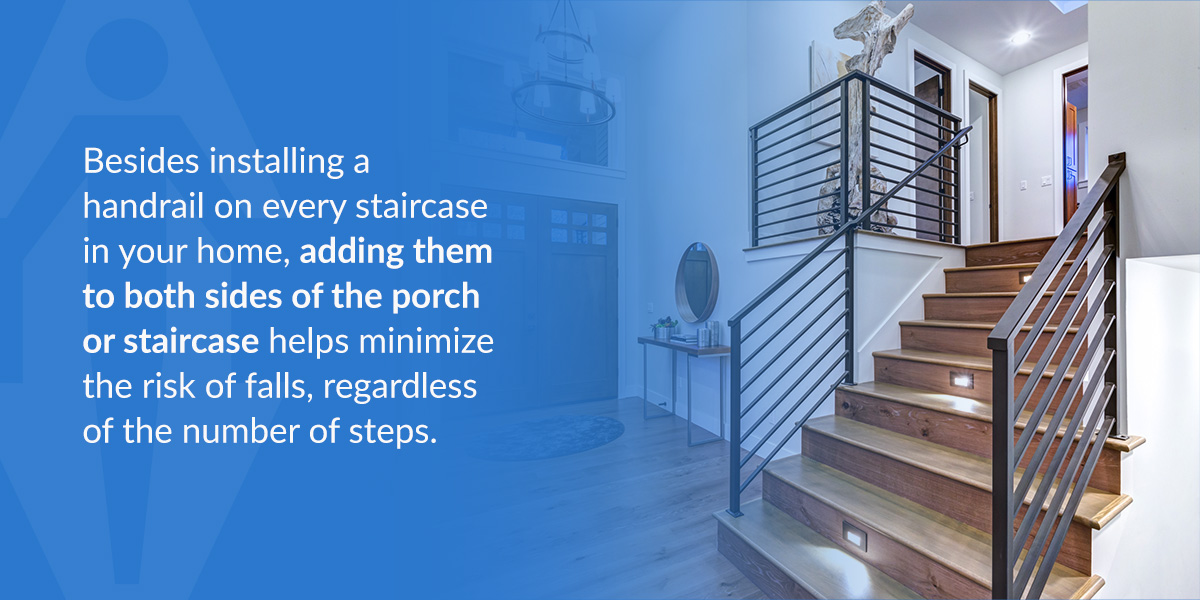 Handrails are one of the most valuable investments for adding resale value and increasing safety in your home. Rails along porches and stairways enhance safety for everyone, from small children to adults with the best mobility skills. Besides installing a handrail on every staircase in your home, adding them to both sides of the porch or staircase helps minimize the risk of falls, regardless of the number of steps.
When choosing a handrail for your needs, select a rounded design that optimizes gripping and a diameter that accommodates your hand size. Additionally, ensuring your rail can handle the weight of the heaviest person using it is vital. The Americans with Disabilities Act (ADA) provides many recommendations and requirements for accessible design.
For secure installation, screw the rail directly into studs or masonry using an approved fastener and ensure all hardware is tight. Selecting a prefinished handrail or painting it with a high-quality wood finish eliminates the chance of splinters. Be sure to choose an experienced professional for complex installations.
6. Home Elevators
For those with multi-story homes, installing a home elevator is one of the most effective solutions for aging in place. Home elevators enable you or your loved one to safely travel between floors without worrying about the very real hazards of stairs. Modern elevators are incredibly safe — particularly for seniors who may struggle with climbing steps.
Additionally, diabetes and similar ailments common among older adults can impair the ability to climb steps and often precede more complex mobility issues down the road. If your mobility has become problematic, installing a home elevator now can help you prepare for when your condition worsens without warning.
Home elevators for aging in place are a practical, affordable transportation solution and are often easier to install than many think. Besides offering safe and efficient transport between floors, home elevators can significantly increase the resale value of your home.
Home elevators from Inclinator adhere to safety standards established by the American Society of Mechanical Engineers (ASME) and the American National Standards Institute (ANSI). We design, build and test each elevator to meet or exceed ASME A17.1, the latest revision of the international safety standard for home elevators. We can custom-design a solution engineered with advanced precision to fit nearly any space.
Your local Inclinator dealer can walk you through all the available design options for our Elevette home elevator, including various cab styles, drive systems, gates, doors and other accessories. We also offer numerous wood grain finishes for the floors, walls and ceilings, allowing you to create a solution specific to your unique design preferences.
7. Kitchen Support and Modifications
Because many older adults spend significant time preparing meals for themselves and their loved ones, modifying your kitchen to meet your immediate and future needs makes sense. Modifications that minimize reaching and stooping while preventing falling keep your kitchen area safe and accessible as you age. These additions can prove especially valuable for those with limited mobility or who use a mobility aid.
Several examples include:
Non-slip flooring
Optimized lighting
Roll-under counters
Side-open ovens
Pullout pantries
Shallow sinks
Deciding if Aging in Place Is Right for You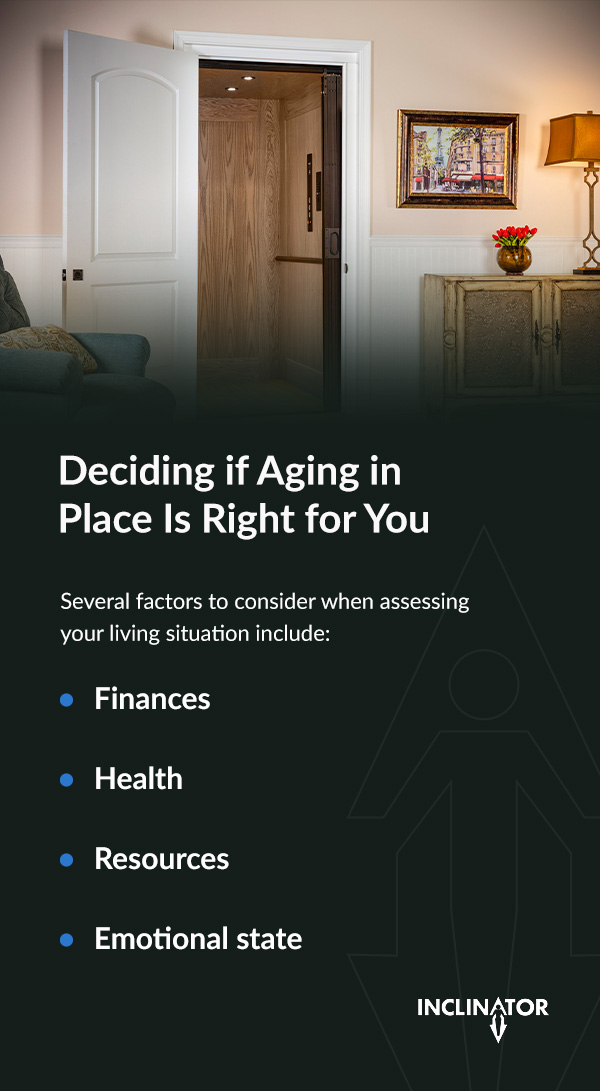 If you or your loved one feel that staying in their home is in their best interests, several strategies can help determine the best living options. The first thing you should do if you feel that aging in place is right for you is to evaluate your unique situation and talk with your family or a health professional about your concerns. Several factors to consider when assessing your living situation include:
Finances: Although discussing money can sometimes feel uncomfortable, it's a critical conversation to have. Many people find themselves in an entirely different financial position after they retire without the financial means to live independently. If money is a factor, consider living with another family member or moving into a smaller house or apartment.
Health: Health is another deciding factor when determining whether you can perform all your daily tasks independently. People with limited mobility, reduced eyesight or minimal hearing may need in-home care assistance. Others with severe physical or mental conditions could benefit more from a long-term care facility.
Resources: Many publicly funded and privately operated organizations support and assist older people. Senior centers offer daily and weekly activities that allow older adults to socialize. Volunteer agencies help people perform daily chores, while meal delivery programs assist those who find cooking challenging or inconvenient.
Emotional state: Your emotional state is another critical indicator of whether remaining at home or moving elsewhere is better. Some older adults dealing with significant life changes — like a recent diagnosis of an illness or the death of a loved one — may want to consider moving. Others with a home full of happy memories may want to remain there as long as possible. There's no right answer, so carefully consider all factors to make the best choice for you and your family.
Contact Your Local Inclinator Dealer Today to Learn More
Deciding to age in place enables older people to continue living the lifestyle they choose with the comfort they enjoy, the independence they deserve and the safety they need to perform their daily tasks independently. More importantly, selecting the optimal home investments helps save significant money over assisted living options that can quickly drain your assets. Installing a home elevator or residential dumbwaiter from Inclinator is an excellent first step in making aging in place a reality.
If you or a loved one want to learn more about our residential elevators and dumbwaiters and how they can benefit you, contact an authorized Inclinator dealer near you today.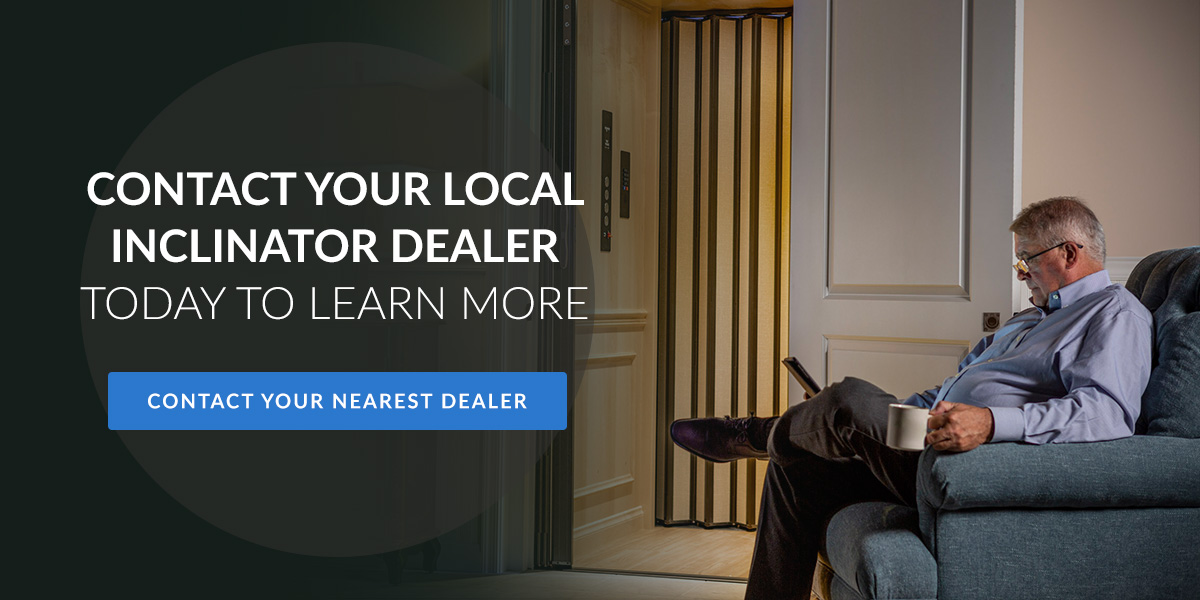 Latest posts by Cliff Warner
(see all)