As William Shakespeare once said about the decision to move out of a family home into an assisted living facility: To leave, or not to leave?
Family members of senior residents must prepare themselves for this question. Stay within the safety and comfort of home, or leave for an overpriced, overcrowded institution? If the answer isn't clear enough, here are five major benefits of aging in place.
1. Safest and Healthiest Choice
Don't be homesick; be at home, healthy. Our homes are where we feel safe and secure, and for good reasons. Of the many benefits of aging in place, the most important is that living independently at home is a safe and healthy option for seniors.
Packed with people of all different physical abilities, nursing homes can be overcrowded, limiting the amount of attention and care that the staff can provide at any one time. With so many people at different levels of health, these facilities can also be a favorite hangout of some nasty germs–and that's the last kind of company you want for your loved one. Disease and sickness are inevitable with so many people living in close quarters, so why even take the chance?
As people age and their immune systems weaken, the risk of infection becomes even higher, and assisted living situations can expose them to sickness they could have avoided.
An article in Aging Health warns of the health risks in nursing homes, saying their older and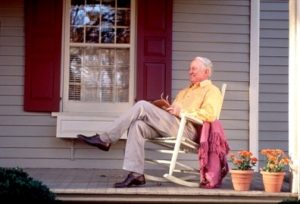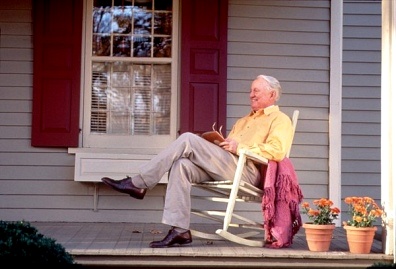 frailer population "creates unique challenges for infection control." From horror stories of dirty feeding tubes to the nightmare of elderly neglect or abandonment, nursing homes pose health threats that just aren't worth the risk.
As long as the home is equipped with the right gear and gadgets, aging in place is the safe and healthy choice. When it comes to your loved ones, it's definitely better to be safe than sorry.
2. Allows Seniors to Keep Their Independence
Growing up there was nothing like that first feeling of independence, realizing that you could do it all by yourself without anybody else's help.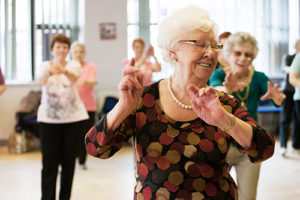 Freedom and self-sufficiency are a crucial part of maintaining mental and emotion health in seniors, and aging in place allows them to hold onto their independence.
According to an article by the U.S. Department of Housing and Urban Development, independence for the elderly is more than just living outside an establishment, and "involves control over their own lives and meaningful participation in the community." Seniors want to hold onto their independence just like anybody else.
As said by Health Advocates Homecare, they don't want to be told how much help they need, or what they can't do.
Aging in place allows seniors keep their independence they want and deserve.
3. Maintains Familiarity and Comfort
You don't need to pull out the ruby slippers to agree that there's just no place like home. Author Mary Shelley got it right when she said that nothing is as painful to the human mind as great and sudden change. We connect deeply with the places in our lives, and having to leave the familiarity of a family home may be jarring and stressful for older residents.
When having to change normal routine to fit that of a foreign facility, seniors may have to eat and sleep at different times, and might not be able to continue with their scheduled pastimes or hobbies. Aging in place maintains the familiarity and comfort that seniors need.
Today, products exist that allow people to change their homes to fit their physical needs; they won't grow out of the place they love, but rather, the place will grow with them.
Customizable home elevators, dumbwaiters, and wheelchair lifts allow residents even more years in the comfort of their own home and lifestyle.
With 70% of seniors opting to make home modifications as they age, products like these make aging in place comfortable, efficient, and familiar–no ruby slippers necessary.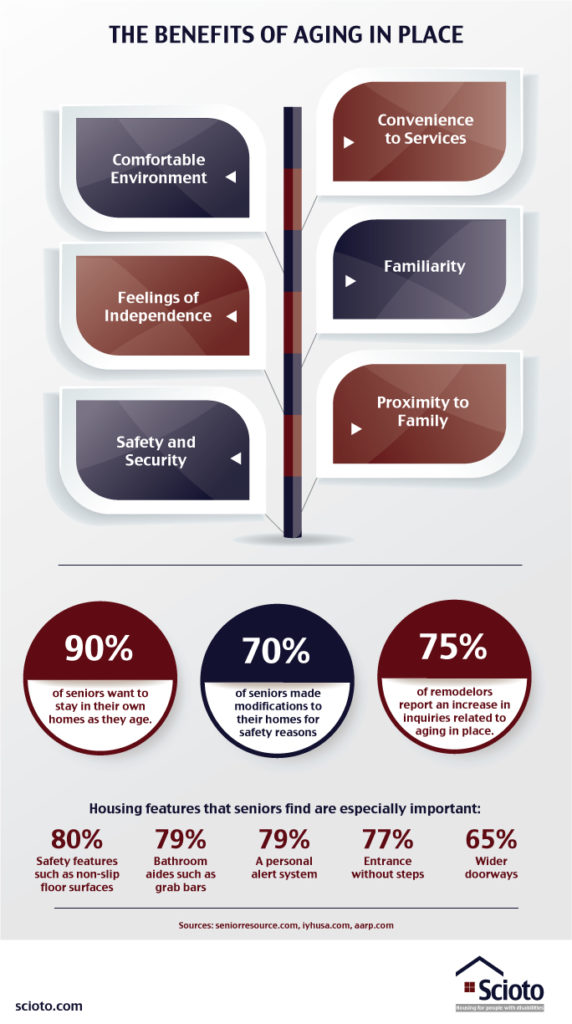 4. Lets Seniors Be Close to Their Loved Ones
Over the river and through the woods to Grandmother's, er, assisted living facility? It just doesn't have the same ring.
Being close to loved ones is a high priority for many seniors–and often for their loved ones, too. Assisted living facilities can regulate visits in a way that limits this valuable social time, and seniors may feel lonely or displaced when separated from not only their home, but from their family too.
Aging in place lets family members help out or hang out as they please, and allows residents to maintain other social relationships, like friendships with neighbors. It's also important to remember that not all older people want to be surrounded 24/7 by other old people.
Frequent visits from children, grandchildren, and other relatives or friends may be just what a senior needs to stay happy.
5. Provides For A More Cost Effective Solution
While the most important thing is the well-being and happiness of the senior, it's important to keep the dollar signs in mind when making the choice of where to spend those golden years.
When held up with the options of moving into most assisted living facilities, aging in place is by far the most economical choice, and that's news everyone can enjoy.
The U.S. Department of Housing and Urban Development explains why aging at home saves money. Some seniors own their homes and don't have to pay mortgage expenses. If a resident is going to move out, the home may be old and in need of serious renovations or upgrades before being put on the market. All of which take time, effort, and money. The senior would have to spend lots of it to make their home desirable to buyers, and those are funds that could be used to improve their current lifestyle.
Above all else, the cost of nursing homes and other facilities adds up a lot more quickly than you might expect. The cost of installing four in-home mobility devices is drastically less than one year in a nursing home.
On top of all the other mental, physical, and emotional benefits, keeping thousands of dollars in your loved one's pocket sounds like a good deal.
Aging in place lets the senior continue the lifestyle they choose with the safety they need, the independence they deserve, the comfort they enjoy and the family they love–all while keeping those bills folded neatly in their wallet.
If you or a loved one is interested in a residential elevator, reach out to a dealer near you today.
---
Last modified .
Latest posts by Cliff Warner
(see all)