Investing in a home elevator installation is one of the many ways you can improve your property's safety and accessibility. In today's society, it's more than just a convenience. It's often a necessity for those who have a harder time using the stairs to move around a household.
The rise in residential elevators has turned the once luxury feature into one of practicality in today's homes. Once a status symbol of the old and wealthy, the residential elevator has become a tool both young and old, handicapped, or those that want to improve the interior of their home for design and resale value.
With the aid of a residential elevator, those with mobility problems are able to justify staying in their multi-level homes. In other words, having a home elevator allows them to retain their independence, privacy, and autonomy despite disability or age. The immobile and the elderly can take back their homes with the installation of a single residential elevator.
There's something else that home elevators can offer intrepid homeowners—freedom of access. Take those houses built on precarious foundations, such as cliff sides. What looks like a front yard could be a green rooftop with elevator access to take you down into the house. Sure, it looks stylish but it also gives the homeowners more efficient access to their property.
Regardless of your background or need, there are very specific qualities you should come to expect from an investment like a residential elevator. Like any building enhancement, elevator planning for homeowners can feel both thrilling and challenging. Having one of these convenient transport mechanisms on your property is a big step, and it will take careful thought and consideration to find what works for you.
There are a few home elevator must-haves worth looking into before deciding on a design or location. If you're in the market for one, pay attention to the following five selling points.
1. Ability To Customize Your Home Elevator
Customization is a huge draw for consumers today. Why buy a product or service if you can't have it the way you want it? Your home, personal style and needs are all unique, and you should base your decisions on these factors.
When you're shopping for a residential elevator, whether it's for a new home in the works or one already built, you're looking for something special. You'll want the elevator to blend seamlessly into its surroundings, to match flooring, walls, and the ceiling around it. You more than likely need something that looks unique and contemporary, or something classic that complements your taste in the finer things.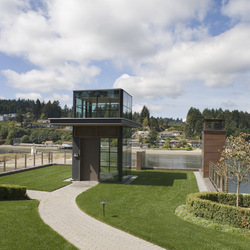 The point is that you'll need to purchase your residential elevator from a manufacturer that offers that level of customization. Flooring, lighting, cab finish and material, and the style of gate are all basic features of any home elevator, which you'll want to pick out yourself. Having two or three models to choose from, with limited customization options, isn't going to make you too happy—not with the amount of money you're investing in the addition.
The good news is that there are few limits when it comes to customization options for residential elevators. While safety and reliability need to take top priority in this type of home investment, there's plenty of room for you to personalize and make the elevator your own.
2. Designing Your Home Elevator to Fit Within Your Home Easily
You should be building the elevator to benefit your home, not the other way around. Some manufacturers offer elevators that require massive construction, which necessitates bulky parts and equipment. That means a lot of extraneous work done to your home, just to get the elevator inside.
You probably have enough responsibilities and challenges in your day-to-day life without having to worry about tearing up your home to install an elevator. Elevator planning for homeowners is an exciting time, and you deserve to have a pleasant experience from the beginning to the end of the process. If you live in a small home, for instance, you'll need a more compact design, whereas a larger house may have a little more flexibility.
Installing an elevator shouldn't take a toll on your house. Look for a company that uses narrower running clearance, or who can design parts to your unique specifications. This is the simplest way to ensure a clean, hassle-free fit and installation. Not every company builds their products to order, and if you want to buy the right elevator for you, it's better to shop around than settle for something that's only 'close' to what you need.
3. Safety of Your Home Elevator
Statistics indicate that elevator and escalator accidents injure about 17,000 people every year. Because of the risks associated with using and working with elevators, it's important to consider elevator safety as a primary concern during the planning and installation processes. While most great service providers take the proper safety precautions, there are also ways you can take an active role in securing your protection and that of your loved ones.
Safety is paramount in any addition you make to your home, especially when it comes to something like an elevator. You want to feel safe, and you want any guests who use that elevator to feel safe. Check with your chosen manufacturer to ensure that they meet or exceed safety standards. It may also help to learn more about the technical aspects of these machines, such as their drive systems.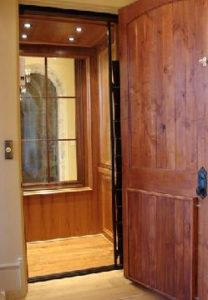 Each drive system offers its own set of advantages, making it easier to identify the one best suited for your needs. Most people want peace of mind when they're riding their elevators, so it's natural to ask questions concerning safety regulations and design specs that could affect elevator performance.
Some common questions to ask include:
Is there emergency battery lowering in the event of a power loss?
How fast does the cab travel, and is the speed adjustable?
What kind and how many safety switches are there?
What safeguards are in place to prevent the elevator from operating without a passenger, or from the door opening while in use?
What is the maximum weight/carrying capacity?
Safety should always be at the top of your list of things to look for in a residential elevator. Even after your unit is designed and installed, you should find a service provider that can keep the elevator stable and up to standard.

4. Manufacturer Installation and Maintenance Plans
"Out of service" is three little words no one ever wants to hear when it comes to elevators, least of all residential elevators—where you likely depend on it for accessing different floors of your home.
Maintenance is one of the biggest home elevator must-haves that you need to keep in mind throughout its lifespan. You must take a proactive approach to ensure that the elevator continues to meet safety and performance standards long after installation. By having a solid plan in place, you can catch issues early or even prevent them altogether.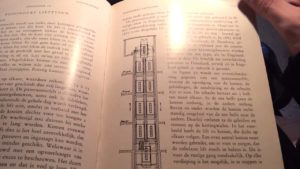 To maintain elevator integrity, you'll need the support of a reliable service provider. It makes sense that you would want some assurance that when, not if, your elevator requires servicing, that it won't be a waste of your time or money.
Ask manufacturers who they recommend for maintenance, or inquire as to whether they provide servicing and inspections for their own elevators.
Some companies use licensed dealers to install and service their elevators, which has the benefit of providing buyers with a local source for all of their future maintenance needs and inquiries. This makes life much more convenient for you and maximizes elevator safety in the long run.
5. Increasing Your Home's Value
Ultimately, purchasing a residential elevator is an investment in your home's future value—not just to yourself, but to potential buyers if you put it on the market. No one can foresee the future and you may not have an immediate need for something like a home elevator, but you can always make room for the elevator shaft and put off the installation until you do need it.
Check with a manufacturer to find the best way to make room for an elevator without purchasing one beforehand. Even if owning a residential elevator is going to be something you do in the future, it never hurts to plan and save yourself the work down the line. Because home elevator installation adds both practicality and modern appeal to your home, it will be worth the work and investment.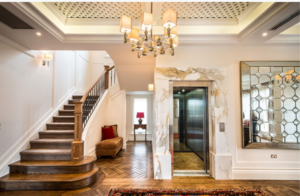 The company you purchase your residential elevator from should check all your boxes—safety, customization, hassle-free maintenance, etc. Chances are, you're going to depend on the elevator once it's installed and it's natural to want some kind of guarantee when it comes to quality and customer care. That's why shopping around for manufacturers, and not just the elevator, is critical to finding something you can trust and feel confident investing in.
---
Last modified .
Latest posts by Cliff Warner
(see all)