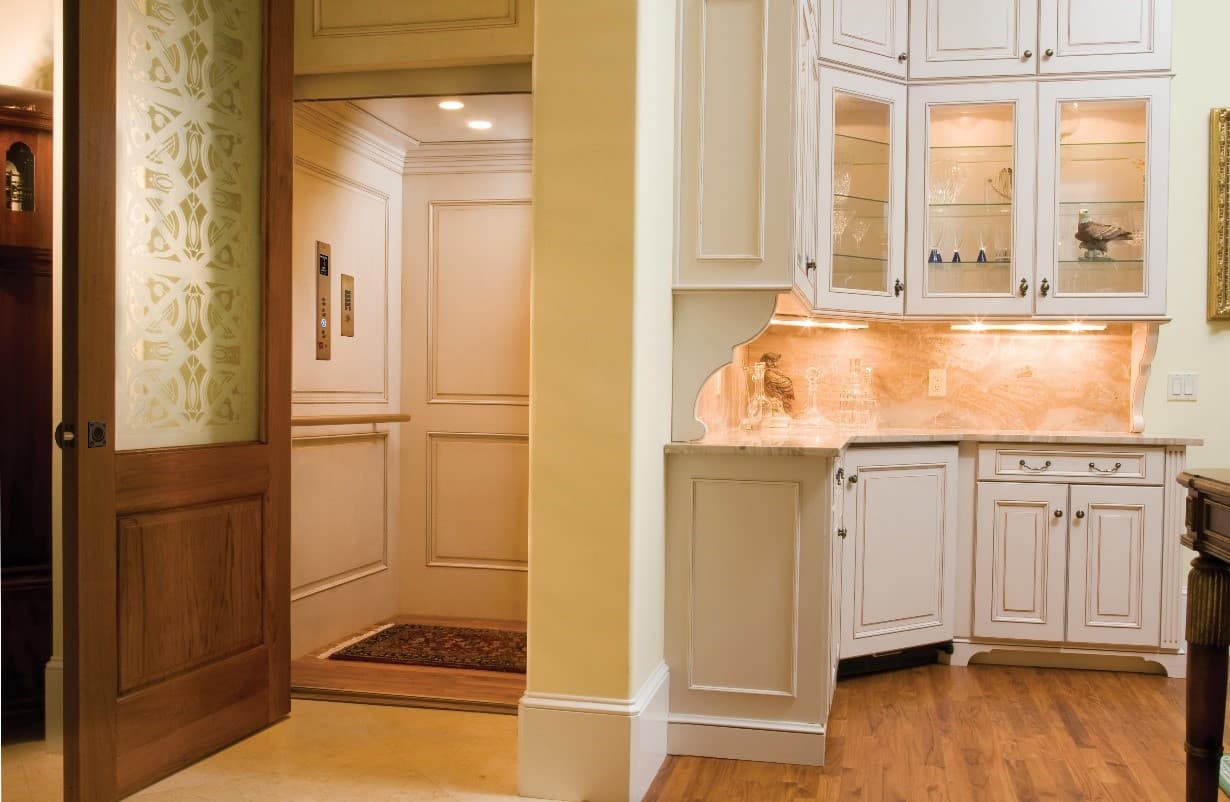 Elevators are commonplace in public areas such as hospitals, business offices and hotels. However, home elevators are on the rise as well, thanks to the number of aging citizens and people with disabilities. These machines make transport between floors more accessible than before, so those who need a little extra help can continue to enjoy their independence. Many people may also install home elevators to improve home value and add contemporary appeal.
This is a growing trend in home design and renovation, and it has led to the development of home elevator safety standards. As you begin to seriously consider adding an elevator in your home to improve accessibility, you probably have questions about standard and optional safety features. While it's true that code compliance regulations for home elevators are comprehensive not all states have adopted the most updated national safety code. This means available safety features may vary by manufacturer.
Here at Inclinator, safety has always been a priority for us, and we are proud to tell our customers that our elevators, as well as our drawings, planning guides, and installation instructions, are all ASME A17.1-2016 (CSA B44 in Canada) code compliant – that's the latest version of elevator safety guidelines. All of our Elevette home elevator models include industry-leading features to keep their owners and users safe and secure, and many come as standard equipment.
Today we're taking a closer look at the most important individual safety features included with our Elevette home elevators to give you a good idea of what you should expect in any home elevator you're considering.
Does Code Compliance Matter?
Home elevators installed across the United States are subject to a safety code currently known as ASME A17.1-2016 – Safety Code for Elevators and Escalators Devised by technical experts at the American Society of Mechanical Engineers (ASME) under the auspices of the government-backed American National Standards Institute (ANSI), this code was first put into place in 1921 as elevators were being installed at a rapid rate in new high-rise buildings throughout the country. The code is regularly reviewed and updated as technology advances, and the most recent revision was released in 2016, as we previously covered here on the blog.
Standards and regulations indicate that home elevators need to have a variety of precautionary features, such as door sensors, to prevent the doors from closing if a person is in the way and fire alarms to alert homeowners of smoke and fire hazards. A general rule also states that the space between the elevator and the landing needs to be 3 inches or less, which protects people or pets from falling through or getting trapped.
We take these regulations very seriously here at Inclinator because we care about the safety of every single person who touches one of our home elevators, whether that's the homeowner who invited our product into their home, or their friends and loved ones who also use it. However, you should care about these regulations, too – they absolutely matter! Especially because compliance with the 2016 code updates is still voluntary in many areas across the US.
Your home is meant to be a place where you feel comfortable and protected. To prevent accidents and keep you safe at home, you'll need the most advanced technology and features on your side, which is what you'll get from Inclinator. For instance, a secure elevator will have everything from door interlocks to emergency lights, handrails and more. You need to know that you're getting the safest product available today, and one that won't potentially require expensive upgrades or retrofitting in a few years when your state adopts the latest code revisions as mandatory.
As soon as the code updates were rolled out in 2016, we were already responding with solutions to address the potential danger these updates sought to eliminate, namely decreasing space between the hoistway door and elevator car door/gate. Be sure to ask salespeople for any home elevator brand you're considering how their product meets the 2016 code updates.

Standard Safety Features on all Elevette Models
Home elevator safety standards ensure that you have access to trustworthy safety components for all Elevette models. Regardless of the drive system, cab style, or custom accessories and finishes you choose for your Elevette home elevator, a strong set of safety features is included at no additional cost, (and several add-on features are also available).
Standard safety features address compliance with ASME safety codes for residential elevators that we just discussed, but they also bring our customers peace of mind that makes living with their elevators worry-free. These features include:
Gates
All Inclinator home elevators include gates attached to the car that are compliant with the updated ASME A17.1-2016 – Safety Code for Elevators and Escalators. These gates have either accordion styling that can be upgraded to many vinyl laminate, hardwood, acrylic, or aluminum finishes or they are aluminum collapsible gates (also known as scissor gates) available in either silver or oil rubbed bronze finishes.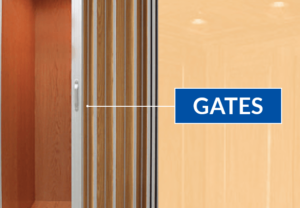 But what are gates, exactly? It's true that many people shopping for home elevators sometimes confuse gates and doors, which each Elevette model has. The gate travels with the elevator cab from landing to landing, while the door is located at each landing and blocks off the hoistway. Further, our elevators will not operate unless the gate is free of obstructions and closed securely.
It's true that the commercial passenger elevators you're used to riding at hotels or public buildings like hospitals and government offices don't have gates, but that is because many commercial elevators have side sliding doors on their cars instead. They have two sets of doors instead of a door and a gate. As you can imagine, gates weigh much less than a set of metal doors, and this is why they're necessary on home elevators, which are much more compact and have lower weight capacities than most commercial elevators.
Interlocks
Elevators would not be safe if the landing door could be opened while the elevator was in motion or while it's at rest at a different landing. This is where interlocks come into play, "locking out" the elevator hoistway from direct access and preventing accidents.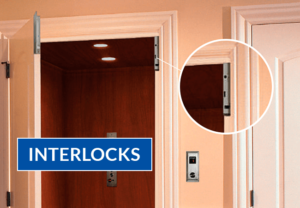 Door interlocks are essential to the safety of the people in an elevator, as it reduces the risk of someone falling under the car or down the shaft. Interlocks typically use electricity only, or they require a key that opens them.
Our Inclinator Honeywell interlocks are made up of two different metal pieces – the lock itself attached to each landing's door frame and a keeper bracket mounted into the end of the landing door at the top. When the door is closed, these pieces connect with each other to prevent opening if the elevator is at another landing or moving within the hoistway.
Lighting and Indicators
Inclinator home elevators come standard with two built-in LED ceiling lights that illuminate when the door opens and when the elevator is running. This energy-efficient lighting is brighter than traditional lighting fixtures and is also low temperature. (Upgrades to lighting are available…just ask us!) Elevators also come with emergency lights, which are designed to switch on during a power outage.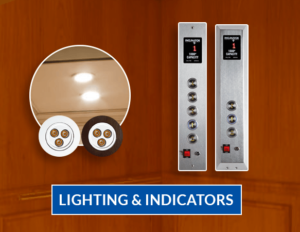 Each Elevette model also features two operating panels with illuminated floor indicators – one is located in the cab and the other, known as the Hall Station, is on each landing by the elevator door so you can easily call the elevator to the landing where it's needed. While these are not specifically safety features, their ease of use is just one more way the Elevette provides stress-free accessibility. Additionally, you'll find an overrun switch on the cab operating panel to fully turn your elevator off, if needed.
Handrail
If you've been in an elevator before, you're probably familiar with handrails inside these cars. Handrails are usually placed around the sides of the elevator to provide extra balance and support for riders. Whether the car stalls at any time or you simply feel unsteady while riding in one, having a handrail close by will offer the extra layer of security and comfort that you need.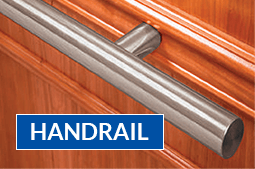 One flat wood handrail comes standard in all Elevette models. The standard handrail is finished to match the cab walls, however upgrades to round metal handrails are available in a selection of finish options, too. This feature is designed to comply with the necessary home elevator safety standards while offering you choices.
Emergency responsiveness
We've all experienced power outages in our homes, and many people wonder how their residential elevator will react in these circumstances. We know the last thing you want is to become trapped in the elevator car or have an accident if the electricity goes out. This is a valid concern, especially if you live alone.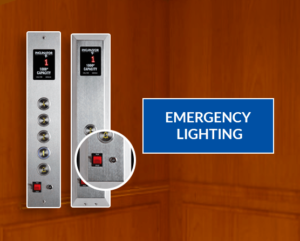 Most of today's elevators are equipped with the technology to handle such emergencies while helping to ensure that you stay safe. All Elevette models feature battery backup to lower the car to its lowest landing should the power go out. Emergency lighting and an emergency bell are also standard equipment.
In addition, these elevators have a manual lowering system that allows you to move your car manually during an emergency. Manual lowering can be beneficial during situations where you need to exit the elevator or building as quickly as possible.
Optional Add-on Safety Features
Because we pride ourselves on offering customers more options than any other home elevator brand, the Inclinator Elevette models can all be customized with optional safety features beyond the standards (and upgrades to standards) we just discussed.
These include:
Phone in cab
For added convenience and safety, a flush-mounted speakerphone with manual dialer and two-way conversation can be added in your elevator's cab. An analog telephone line is required, but operation is simple. Simply press the "on" button and dial the desired phone number.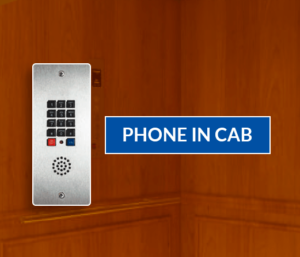 Automatic Gate and Door Operators
If you don't want the hassle of pulling your elevator's gate closed or opening and closing landing doors manually, we offer automatic gate and door operators. This option is excellent for individuals who have issues with reaching and grasping or who simply want their elevator riding experience to be even more convenient.
Prioritize Elevator Safety Today
The variety of home elevator safety features we offer will help protect you during a malfunction, emergency or household disaster. Our elevator systems come with enough backups to account for almost anything, even a fall down the shaft. For example, they have electromagnetic brakes to prevent falls. Plus, the bottom of every elevator shaft contains a shock absorber system designed to reduce the impact.
At Inclinator, our goal is to make our customers feel confident in choosing our home elevators and other home accessibility solutions. Our elevators are made right here in America with superior engineering and a deep understanding of the safety features our customers expect and deserve built right in. Ready to talk customization and design for your own home elevator? Get in touch with us or locate your nearest dealer to get started.
Home Elevator Safety:
Latest posts by Cliff Warner
(see all)