Are you or a loved one seeking more independence after an accident or through the aging process? If so, you may want to consider a home elevator installation. Due to their convenience and customizability, residential elevators are becoming an increasingly common addition to American homes.
Not only can a residential elevator provide you with the convenience you need in your home, but it can also increase the value of your home, save you money and provide enhanced accessibility for years to come.
Whether you're ready to move forward with installing your home elevator or you're still on the fence, we have all the tips and steps you'll need to help you make your decision and install the right elevator in your home.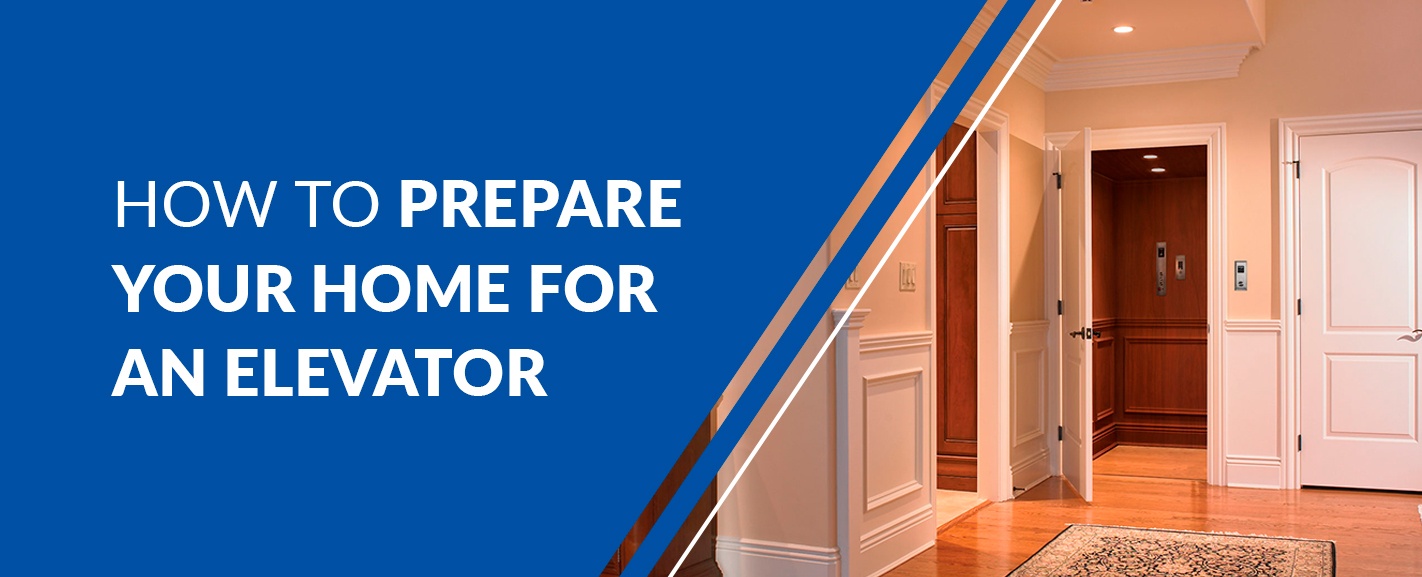 Why You Should Consider a Residential Elevator Installation
More and more Americans are installing elevators in their homes for a wide range of reasons, including:
Improved Mobility in the Home
Many seniors want to live in their own homes as they get older. If you're a senior who wants to live the remainder of your golden years in your own home, you'll probably need to make some changes to your property. You'll want to make your front door more accessible, make modifications to your tub and shower and install grab bars to various spots in your home.
One of the greatest risks that older adults face when they live alone is falling or injuring themselves. As we get older, many of us don't want to risk walking up and down the stairs. Several older adults sell their two-story homes and move into a single-story home to avoid stairs, even if the two-story property was their dream home.
Fortunately, with a home elevator, you don't have to give up your dream home. Plus, it will likely be less expensive to add an elevator to your existing home than it would be to purchase a new single-story home.
Customized to Fit Your Home's Style and Décor
Not all elevators look the same. In fact, you can customize your home elevator to fit the style and décor of your home. This customization includes the door, trim and flooring. A residential elevator can blend in so well with the rest of your home, that the only thing that distinguishes it is the call button.
Increased Resale Value of the Home
While a home elevator installation may cost you upfront, the installation can also significantly increase the resale value of your home. Though a residential elevator can be quite costly, the price can vary depending on your custom options, your location, taxes, the size of your elevator and the type of drive system you choose.
Despite the upfront cost, a residential elevator can also increase your home's value by 10 percent. With an elevator, you'll have more equity in your home, and your property will become more appealing to potential buyers, as they'll be able to imagine themselves in this home long-term.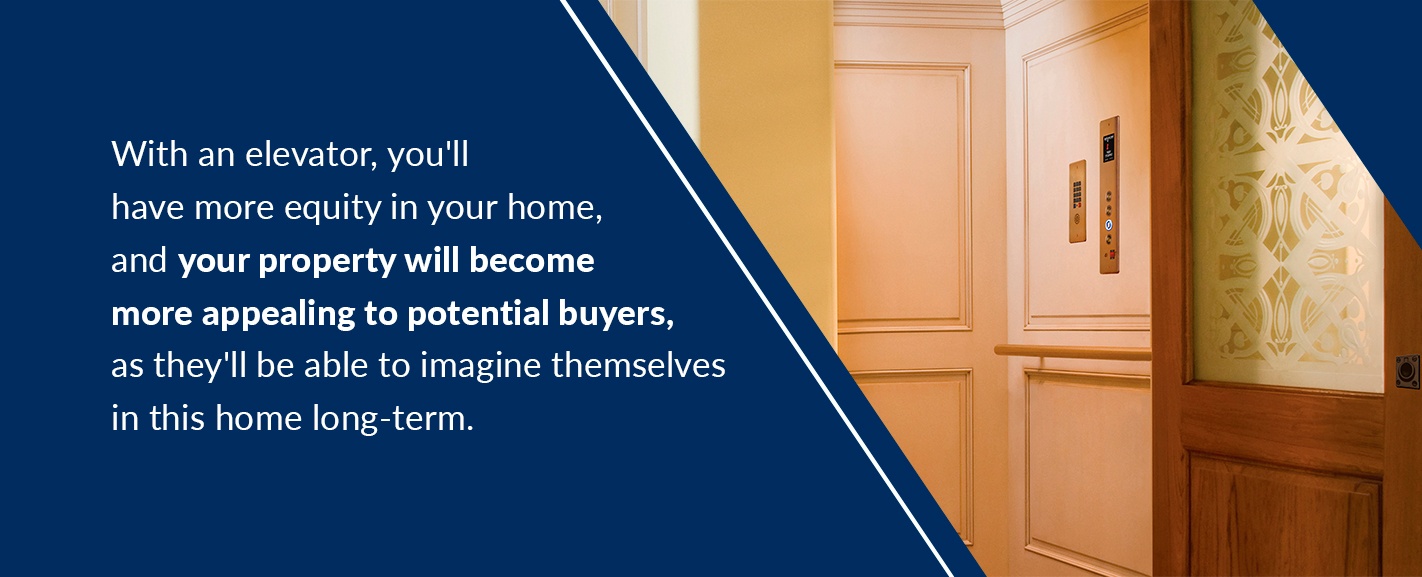 With the increase in the value of your home, you'll likely completely recoup the costs of your elevator or even exceed the cost when you sell.
Tips for Preparing Your Home for Elevator Installation
Installing an elevator in your house is an important step in maintaining your independence and remaining in your home following an accident or as you or your family member ages.
In order to ensure a successful, safe and quick home elevator installation, follow these tips:
1. Decide Whether to Add or Retrofit
The first tip for installing an elevator is to decide whether you want to add the elevator onto your house or if you want to retrofit it in. Retrofitting is much less expensive, but you may lose closet or storage space. A new construction project will take longer and cost more, but you have more choices in size and location.
2. Find a Contractor
Your next step will be finding a contractor. You'll then work with the contractor to determine where you want the elevator and where the power lines need to be.
3. Choose Your Custom Options
Next, you'll want to customize your elevator to suit your needs and preferences. At Inclinator, we offer five cab styles, three drive systems, various color and design options, 
18 gate and door configurations,
 custom lighting and more.
100 Cab: This cab features laminate flooring with a wood finish, a white ceiling and walls you can paint any color.
200 Cab: This cab features a dark or light style, hardwood walls and two LED ceiling lights.
300 Cab: This cab features light or dark wood, various wood grain options, decorative molding and laminate flooring with a wood grain finish.
400 Cab: This cab features rich wood with decorative trim, panels and molding. Walls include acrylic panels that you can customize with a wide variety of accessories and finishes.
500 Cab: This cab features an elegant appearance, clean lines, maximum visibility and an aluminum frame in black, silver or white.
Elevette® Hydraulic: This drive system offers a smooth, quiet ride and uses less fluid than hydraulic elevators from other brands.
Elevette® Cable Drum: This drive system is the most compact option we offer, using a monorail-guiding system that saves space. This system can serve as many as six landings, and our product is quieter than other cable drum elevators on the market.
Elevette® MRL Overhead Cable Drum: This drive system uses two guide rails that are designed to enhance the stability of the elevator and to ensure a quiet, smooth ride. The MRL doesn't need a machine room and has the lowest required minimum distance between floors.
With so many customization options, you can design an elevator that's perfect for your home.
4. Decide When Your Elevator Will Be Installed
Since Inclinator elevators arrive preassembled, the technicians will not need to go through a lengthy assembly process. Installation time depends on the type of elevator and the number of landings. For reference, a two-stop elevator should take about four days with two technicians.
5. Schedule Your Annual Maintenance
Once you've decided you want to move forward with installing your home elevator, you may be wondering whether you need to schedule annual elevator maintenance. To ensure the safety, quality and longevity of your elevator, we recommend scheduling maintenance 
at least once per year
.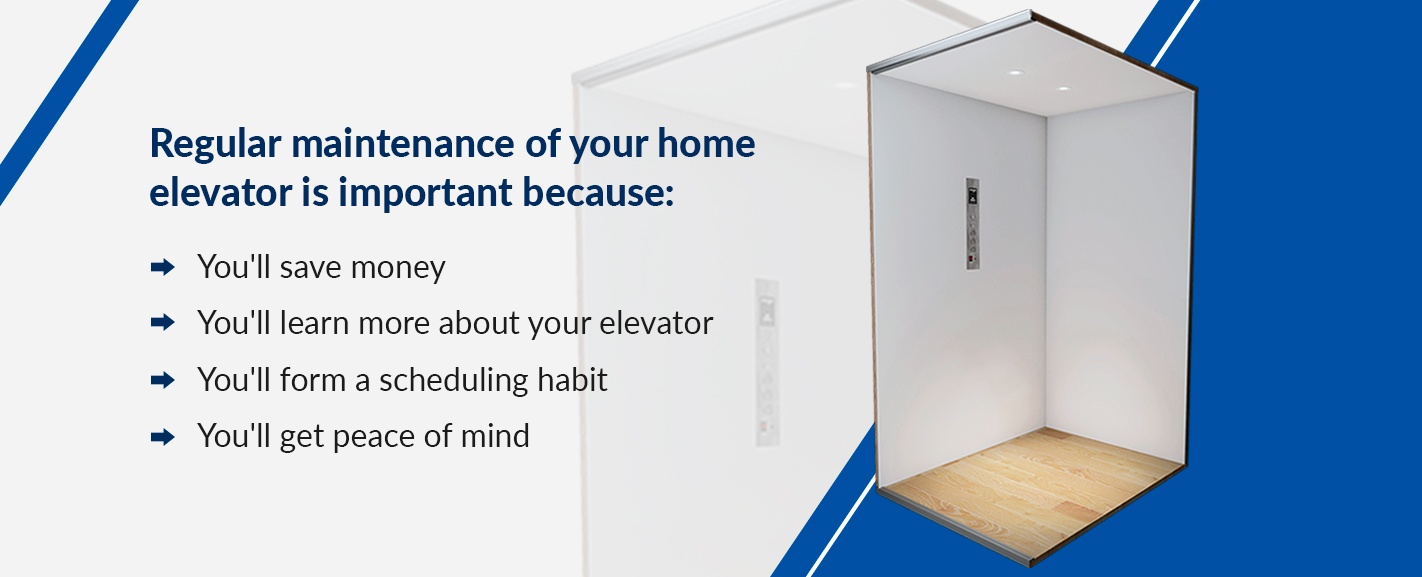 Regular maintenance of your home elevator is important because:
You'll save money: You may be able to skip the annual maintenance, but doing so can put the reliability of this complex machine at risk. Preventive maintenance is almost always easier — and less costly — than repairs on a broken machine. A small issue can quickly become a major, expensive problem if ignored too long.
You'll learn more about your elevator: Are you fascinated by the inner workings of a machine? You may be able to learn more about your elevator through yearly maintenance and even gain some knowledge about smaller issues you can address yourself, such as burnt out lights.
You'll form a scheduling habit: Scheduling annual maintenance for your home elevator is no different from scheduling your vehicle's annual inspection. You'll find that you quickly form the habit of scheduling the maintenance every year. To help you remember, you may want to schedule both in the same month.
You'll get peace of mind: After your elevator has been inspected by a professional, you can rest assured that you and your family are safe. With regular maintenance, you won't have to worry about whether the cables are worn or the parts are up-to-date.
Be sure to schedule your yearly maintenance with an Inclinator qualified service team. Our team will keep your elevator running reliably and reduce costly repairs in the future.
How to Choose a Home Elevator
Now that you've decided to move forward with installing a home elevator, you'll need to choose the right residential elevator for your home. Follow these steps to ensure you find the perfect elevator for your property:
1. Choose a Location for Your Elevator
Where do you want to install your elevator? The location should be convenient for your use and should have enough available space for hiding the drive equipment. Your best option may be installing your residential elevator near the stairs. The reinforced structure of the stairs and extra free space is ideal for the installation of a home elevator.
Where do you anticipate entering and exiting the elevator will be most important and convenient? Ideal locations for home elevators include:
From your garage to your living area.
From your living area to your upper hall.
From your lower-level hall to your upper-level hall.
Consider where you travel most to help you determine where the most convenient location for a home elevator may be.
2. Make Your Final Customizations
Do you want a cab style that's simple or elegant? Do you have the space for a hydraulic elevator, or would you prefer a cable elevator that takes up less space? Do you want your elevator to include one or two openings? What are your preferences for the other components of your elevator? When deciding on your elevator customizations consider the:
Ceiling: Depending on your choice of cab, you can choose a standard white laminate ceiling or a wood ceiling.
Floor: Choose laminate flooring with a wood grain simulation of your choice or elect to have your flooring unfinished and complete it yourself.
Lights: Each of our elevators includes two lights, but you can choose to add more.
Handrails: Would you prefer decorative wood or round metal for your handrails? You can also choose from several finishes.
Operation panels: You can choose between three finishes and a raised or flushed style for your panels.
Walls: Choose from a myriad of wood finishes for your elevator walls, such as cherry, maple, mahogany, alder, red oak, dark oak and walnut. If you'd prefer, you can also request to have your walls delivered unfinished and have them finished on site.

3. Select the Manufacturer and Dealer
Few steps for installing a home elevator are as important as finding and selecting the right manufacturer and dealer to work with. When you partner with the right vendor, you'll be able to depend on them for an accurate cost estimate, customization options that suit your needs and a product that fits your budget.
How do you determine which manufacturer and dealer are right for you? Choose a vendor with the following qualities:
Experienced: How long has this manufacturer been in business? Does this manufacturer belong to professional organizations, like the National Association of Home Builders or the Association of Members of the Accessibility Industry? Because of the many safety codes involved in home elevator installation, experience is crucial.
Reputable: Scan customer reviews and contact previous customers. If this manufacturer has received a lot of positive testimonials, you can feel confident in this company's reputation and its ability to deliver the product you want.
Flexible: Your home elevator should blend in with the rest of your home, so you'll want to work with a company that can offer you a wide range of customization options. The more options a manufacturer has available, the more likely you are to be satisfied with your purchase.
Service plans: What repair service and maintenance plans are offered by this vendor? Knowing you can rely on your vendor for regular maintenance and avoid major problems will give you peace of mind and could also save you money.
You'll need professionals to perform a home elevator installation. Partnering with a manufacturer and dealer you can trust will ensure your elevator is safe, suits your home and meets your needs.
Order Your Residential Elevator From an Inclinator Dealer
At Inclinator, we manufacture safe, reliable and customizable home elevators. Because our elevators are so customizable, they can fit into just about any space without sacrificing precision.
We're the first in the industry to bring elevators to American homeowners, and we've been providing residential elevators to Americans for nearly a century.
Customizing your elevator is an easy and simple process, as each of our elevators is designed individually by our team of experts. Following installation, you'll find your home elevator is a valuable investment. In fact, the value of your home will likely increase enough to recoup the costs of the elevator installation. When you're ready to sell your home, you'll also be able to sell to a wider market.
Are you ready to schedule your home elevator installation? Locate an Inclinator dealer or contact us with any questions today.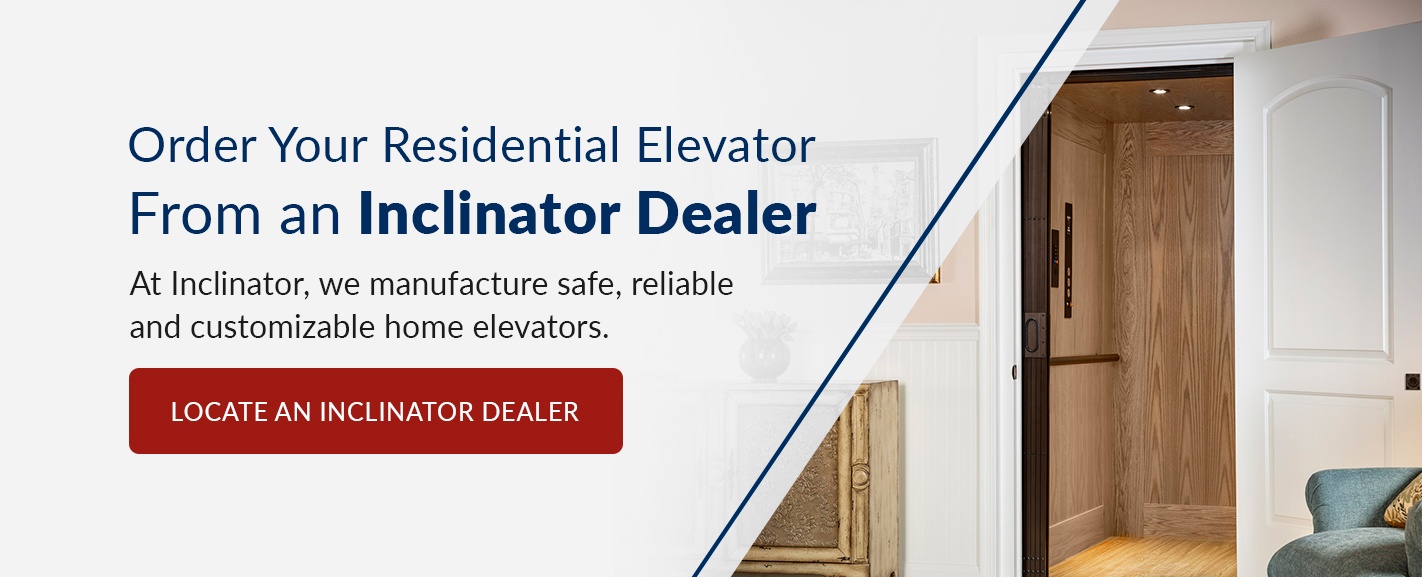 Latest posts by Cliff Warner
(see all)