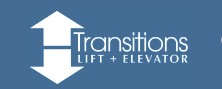 About TRANSITIONS LIFT & ELEVATOR
Transitions Lift + Elevator
Transitions Lift + Elevator is the leading source for residential and commercial accessibility solutions in Lexington Kentucky area, Louisville, Central and Northern Kentucky, Southern Indiana as well as the Cincinnati/Dayton Ohio region. Transitions Lift + Elevator offers a wide variety of products from top manufacturers, including Inclinator Company of America®. Inclinator home elevators and dumbwaiters provide a reliable way to transport people and items safely. Transitions Lift + Elevator supports every Inclinator product with comprehensive sales, installation, service and maintenance.
About Transitions Lift + Elevator
Transitions Lift + Elevator is a family-owned and operated business that was founded in Lexington, KY, in 2009. They focus on customer service and delivering exceptional products. With their vast product and industry knowledge, Transitions Lift + Elevator will exceed your expectations. They have three locations to meet the demands of home and business owners throughout the region.
Available Products and Services
Transitions Lift + Elevator offers high-quality Inclinator home elevator's and dumbwaiters. Inclinator residential elevators come in machine room and machine roomless drive systems to meet the needs of virtually every residential property owner. Inclinator can also custom-design elevators to fit unique spaces. Inclinator residential and commercial dumbwaiters make it safe and easy to transport household goods, office supplies and other items from floor to floor. You can trust Transitions Lift + Elevator to provide professional design, installation, repair and maintenance for all of Inclinator's products.
Safe, Reliable Accessibility Solutions
Inclinator products offer maximum safety and reliability. The home elevators' high-quality construction ensures many years of dependable use in your home.
Contact Transitions Lift + Elevator for More Information
You can find convenient Transitions Lift + Elevator locations in Louisville, Lexington and Cincinnati. Feel free to call them at (877) 341-3555 or contact them online for additional product and pricing information.
TRANSITIONS LIFT & ELEVATOR

TRANSITIONS LIFT & ELEVATOR
721 NATIONAL AVE,
LEXINGTON, KY 40502
Sales Representative:
ANTHONY MORRISON
anthony@transitionsmobility.com
(859) 229-7571
Contact TRANSITIONS LIFT & ELEVATOR