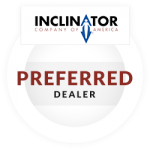 About TIDAL ELEVATOR
Tidal Elevator
Tidal Elevator Co., LLC is your headquarters for premium residential and commercial elevator products in Savannah, GA, and throughout Chatham County. As an authorized Inclinator Company of America® dealer, Tidal Elevator provides a variety of home elevator solutions from one of the leading manufacturers of safe, reliable home elevators and other products. You'll also have access to expert installation, repair and maintenance service.
About Tidal Elevator
Tidal Elevator has earned an excellent reputation throughout the Savannah area for quality, service and dependability. The Tidal Elevator team includes factory-trained technicians that always make safety their top priority. You'll receive expert product selection assistance to help you make an informed purchasing decision. The Tidal Elevator staff will do whatever it takes to ensure your elevator meets your unique mobility requirements.
Available Products and Services
The Tidal Elevator product line features Inclinator's home elevator. Multiple configurations are available to ensure an easy entrance and exit. Tidal Elevator can install your home elevator and provide prompt, efficient maintenance and repair service for as long as you own it.
Safe, Reliable Home Mobility Solutions
Inclinator Company of America products include a host of built-in safety features to provide additional protection and peace of mind. The advanced design and durable construction will ensure long-lasting, reliable operation.
Contact Tidal Elevator to Learn More
Tidal Elevator Co., LLC has a facility at 9349 Whitefield Ave. in Savannah. Feel free to give them a call at (912) 354-7328 for more information.

TIDAL ELEVATOR
391 HUNT DRIVE,
SAVANNAH, GA 31406
Sales Representative:
AUSTIN PAIGE
tidalelevator@hotmail.com
912-224-3643