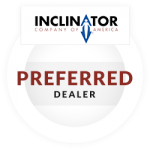 About ROSS ELEVATOR
Ross Elevator Company in Little Rock, AR
Ross Elevator company specializes in the installation of elevators in Little Rock and the surrounding areas. Select from a variety of designs to make your system right for your needs, space and home aesthetic. The company provides high-quality products and services as an elevator dealer that Inclinator Company of America® is proud to work with.
About Ross Elevator
With the proper maintenance and industry experience, which Ross Elevator offers, your lift devices will last as long as your home. The Ross Elevator team takes pride in exceeding customer needs, and they'll give you a sense of control over your life along with increased mobility.
Our Products and Services
Ross Elevator can repair and install Inclinator's products, including dumbwaiters and home elevators, among other accessibility systems. The elevators offered feature an assortment of cab, drive system and gate and door options. With us, you can control your lifestyle and quality of life while enjoying more years in the home you love.
Providing Quality Solutions
Choosing Inclinator means you're choosing some of the safest, highest quality products in the industry. We were the first to bring customizable elevators for the home to America and provide American-built craftsmanship that will even increase your home's value while giving you more flexibility and ease than ever before. Inclinator elevators come with features like safety gates, cab monitoring and emergency battery-powered cab lowering to help your product last longer.
Contact Ross Elevator for Improved Mobility
Ross Elevator is located at 1200 Westpark Dr. in Little Rock, AR. For a free estimate or to schedule an installation, call them at (501) 664-9600.

ROSS ELEVATOR
1200 WESTPARK DRIVE,
LITTLE ROCK, AR 72204
Sales Representative:
NILES ROSS
nross@rosselevator.com
501-664-9600