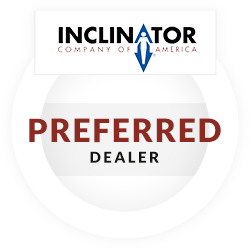 About RISING CONCEPTS, INC
Rising Concepts
Rising Concepts Incorporated is your best source for home elevator service in Winston-Salem, Greensboro and High Point, NC, and the surrounding areas. The company is an authorized dealer for Inclinator Company of America®, one of the oldest and most respected manufacturers of home elevator equipment in the United States. Inclinator products offer the ultimate in safety and reliability.
About Rising Concepts
Rising Concepts Incorporated takes pride in offering solutions, not just products. Founded in 2006, the company remains responsive to the service needs of its customers. Whether you're building a new home or renovating an existing structure, you can trust Don Bell and his expert team to perform high-quality work at a fair price.
Products and Services
Rising Concepts can install and service Inclinator Company of America elevators and dumbwaiters. Inclinator home elevators require minimal space and can provide a customized lift capacity. Inclinator dumbwaiters can transport household items weighing as much as 120 pounds at a distance of up to 35 feet.
Proven Safety and Reliability
Inclinator designs and builds home elevator products with user safety in mind. Key standard features include full-time cab monitoring, code-compliant safety gates and emergency battery-powered cab lowering and lighting. You can also add optional door guards and light curtains for enhanced protection. The expert craftsmanship and solid construction ensure a safe, reliable elevator or dumbwaiter with few concerns about repair and maintenance issues. You can use your Inclinator mobility solution in your home with complete confidence.
Contact Rising Concepts Incorporated for All Your Home Mobility Needs
Rising Concepts is located at 2046 NJ HWY 801 South, Advance NC 27006. Give them a call at 336-998-7123 or contact them online to schedule a free consultation or request an estimate.

RISING CONCEPTS, INC
2046 NC HWY 801 SOUTH,
ADVANCE, NC 27006
Sales Representative:
DON BELL
dbell@risingconceptsinc.com
336-998-7123
Contact RISING CONCEPTS, INC