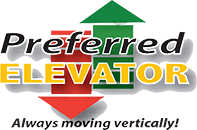 About PREFERRED ELEVATOR COMPANY
Preferred Elevator Company
Headquartered in Essex, MD, Preferred Elevator offers a broad assortment of residential elevators and dumbwaiters throughout the Baltimore, Washington D.C. and Central Maryland area. As an authorized Inclinator Company of America® dealer, Preferred Elevator provides safe, reliable elevator products along with complete installation, repair and maintenance service. Around-the-clock emergency repair service is also available.
About Preferred Elevator
Preferred Elevator is an independently owned and operated elevator company that offers years of relevant industry experience. The Preferred Elevator team consists of well-trained and licensed elevator mechanics who have earned National Elevator Industry Educational Program certification.
This company has built its stellar reputation on honesty, efficiency, the ability to assess challenges and a passion for problem-solving. Every Preferred Elevator employee strives to implement elevator solutions that will enable residents to enjoy their living space without mobility constraints.
Products and Services
Preferred Elevator sells, installs, maintains and repairs Inclinator residential elevators and dumbwaiters. Inclinator offers customizable personal elevator solutions that can fit any space, providing maximum independence and flexibility. Inclinator dumbwaiters are also perfect for transporting heavy, bulky household goods, groceries, luggage, dinnerware and other items between floors.
Products Designed With Safety and Reliability in Mind
Inclinator Company of America products meet the highest standards for safety and reliability. All private residence elevators include features that provide extra protection. They also consist of solid construction that ensures many years of dependable service.
Contact Preferred Elevator for More Information and a Free Estimate
Preferred Elevator has a location at 7110 Golden Ring Road, Suite 102 in Essex. Feel free to call them at (410) 238-2555 to learn more about their residential elevator product and service offerings and get a free estimate. You can also contact them online at your convenience.
PREFERRED ELEVATOR COMPANY

PREFERRED ELEVATOR COMPANY
7110 GOLDEN RING ROAD,
BALTIMORE, MD 21221
Sales Representative:
KEN GOUGH
ken@preferred-elevator.com
410-238-2555
Contact PREFERRED ELEVATOR COMPANY