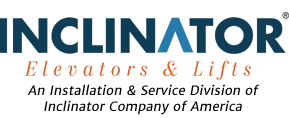 About INCLINATOR ELEVATORS & LIFTS
Inclinator Elevators & Lifts
As the installation and service division of Inclinator Company of America®, Inclinator Elevators & Lifts offers a broad range of elevator services to homeowners and businesses throughout the region. Inclinator products combine safety, reliability, customization and style for a cost-effective solution. You can purchase these products directly from Inclinator Company of America and get complete installation, maintenance and repair services from a trusted local provider.
About Inclinator Company of America
C.C. Crispen founded Inclinator Company of America in 1923 and developed the first elevator designed to transport people up and down staircases in 1928. Nearly a century later, Inclinator remains a family-owned company that continues to help people improve their quality of life. Superior craftsmanship and attention to detail define the company's innovative product line. Today, there are more Inclinator elevators in American homes than any other brand.
Available Products and Services
The Inclinator Company of America product lineup features customizable private residence elevators that can fit in a space the size of a closet. Inclinator dumbwaiters easily transport groceries, piles of laundry or other heavy household items up and down the stairs. Inclinator Elevators & Lifts can provide a fast, professional installation for each these offerings as well as comprehensive maintenance and repair service.
Inclinator Products Provide Reliability and Safety
Inclinator home elevators include features to safeguard against accidents. Their advanced design and solid construction will ensure reliable service for many years.
Contact Inclinator Elevators & Lifts
Give Inclinator Elevators & Lifts a call at (800) 343-9007 or contact them online for all your home elevator installation, repair and maintenance needs.
INCLINATOR ELEVATORS & LIFTS

INCLINATOR ELEVATORS & LIFTS
601 GIBSON BLVD.,
HARRISBURG, PA 17104
Sales Representative:
MARK CRISPEN
mark.crispen@inclinator.com
1-800-343-9007
Contact INCLINATOR ELEVATORS & LIFTS