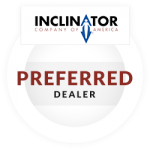 About CHAMPAGNE ELEVATORS, INC.
Champagne Elevators
Champagne Elevators is a leading provider of residential elevator services in Southeast Louisiana and the Mississippi Gulf Coast. They have more than 45 years of experience, and you can trust them to provide safe, reliable design, installation, maintenance and repair service for elevators and dumbwaiters. The company represents some of the top manufacturers in the industry, including Inclinator Company of America®.
About Champagne Elevators
Established in 1972 by Carroll Spraberry, Champagne Elevators was purchased by long-time employee David Winter in 2007 and became a division of Winter Elevator Services, Inc. The company continues to uphold the Spraberry legacy of quality and customer service.
Champagne Elevators now operates an office/warehouse facility in Elmwood, LA, that includes a showroom featuring sample elevator units. Despite its tremendous growth in recent years, the company continues to offer a family-oriented approach that customers appreciate.
Products and Services
The Champagne Elevators product line features residential elevators and dumbwaiters from Inclinator Company of America. Inclinator home elevators are custom-designed to fit in any location, and they come in a variety of styles. Inclinator dumbwaiters eliminate the need to carry heavy items up and down flights of stairs.
Safe, Reliable Residential Elevator Equipment
All Inclinator products offered by Champagne Elevators feature a reliable design with a focus on safety and ease of use. Inclinator home elevators often include features for added protection.
Contact Champagne Elevators to Learn More
Champagne Elevators is located at 1403 Dealers Ave. in Harahan, LA. Feel free to stop by the showroom for a closer look at their residential elevator selection. You can also call (504) 885-6213 or submit an online contact form for more information and a free quote.
CHAMPAGNE ELEVATORS, INC.

CHAMPAGNE ELEVATORS, INC.
1403 DEALERS AVENUE,
HARAHAN, LA 70123
Sales Representative:
RYAN DEMMA
ryan@champagneelevators.com
504-885-6213
Contact CHAMPAGNE ELEVATORS, INC.