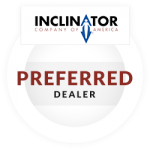 About BAGBY ELEVATOR CO INC
Bagby Elevator Company of Birmingham
Bagby Elevator Company in Birmingham, Alabama, is one of the country's largest independent elevator contractors. Serving central Alabama, Bagby has demonstrated a commitment to excellent customer service as a multi-service provider of elevator systems.
About Bagby Elevator Company
Bagby Elevator Company was founded by Arthur Bagby, Sr. in 1920. Having been founded by one of the first people to use hydraulic fluid instead of water in hydraulic elevators, the company has installed hydraulic elevators in Birmingham since the end of WWI. Bagby provides installation, repair, renovations and services to any commercial, industrial and residential customers. They operate throughout Alabama, Louisiana, Mississippi, Texas, Georgia, Tennessee and Florida.
Products and Services
Bagby can install, repair and maintain Inclinator Company of America® products from residential elevators to dumbwaiters that allow you to go between floors or transport items between floors quickly and safely. Inclinator aims to enable you to live in the home you love with a sense of safety and ease. Through our dealers, including Bagby, we offer state-of-the-art technology in the form of elevators, dumbwaiters and more.
We Emphasize Safety and Ethics
Our extensive experience in the industry gives us the knowledge to consistently ensure the safest and best practices for our employees and customers. When you buy an Inclinator elevator, it will come with additional safety features like code-compliant safety gates, cab monitoring and emergency battery-powered cab lowering. These features will ensure your product is long-lasting and requires less maintenance and fewer repairs.
Contact Bagby Elevator Company, Inc. for Custom Elevator Solutions
Bagby Elevator Company of Birmingham is located at 3608 Messer Airport Highway in Birmingham, AL. For more information or to request a free estimate or consultation, give them a call at (800) 228-7544.

BAGBY ELEVATOR CO INC
4240 FIRST AVE SOUTH,
BIRMINGHAM, AL 35222
Sales Representative:
BERNIE SCOTT
bernie@bagbyelevator.com
205-591-4245
Contact BAGBY ELEVATOR CO INC