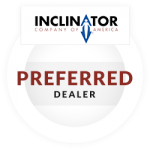 About AVS/OREGON ELEVATOR
AVS Elevator
Advanced Vertical Solutions (AVS) has been serving the Greater Portland area in Oregon and the surrounding areas as an elevator constructor for more than 50 years. They provide high-quality products and services as an elevator dealer that Inclinator Company of America® is proud to work with. AVS Elevator can provide high-quality installation and service for Inclinator elevators and dumbwaiters.
About AVS Elevator
AVS Elevator is built on the lifelong experience of a fourth-generation native Oregonian and second-generation elevator constructor from the state. AVS Elevator is a locally owned and operated small business that's both state- and union-certified. The team demonstrates ownership of their work and commitment to customer satisfaction. They even offer 24-hour service and no long-term contracts.
Products and Services
AVS Elevator can install, repair and maintain a variety of Inclinator products. Inclinator, a trusted residential elevator manufacturer, offers custom elevator solutions to fit the needs of any individual and their space. Choose from an assortment of state-of-the-art dumbwaiters for transporting household items between floors and more.
Safety and Quality Assured
Inclinator provides some of the safest and most reliable elevator products and services in the industry. Safety features include full-time cab monitoring, code-compliant safety gates and emergency battery-powered cab lowering and lighting. Each home elevator is crafted with your comfort and mobility in mind to ensure you have a future filled with more flexibility and ease than ever before.
Contact AVS Elevator LLC for All Your Home Elevator Needs
AVS Elevator is located at 11140 SW 109th Ave. in Tigard, OR. For more information or to request a free consultation, call them at (503) 876-3696.

AVS/OREGON ELEVATOR
11140 SW 109TH AVE,
TIGARD, OR 97223
Sales Representative:
FRANK STALEN
frank@avselevator.com
503-876-3696
Contact AVS/OREGON ELEVATOR