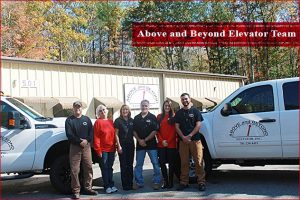 About ABOVE AND BEYOND ELEVATOR
Above and Beyond Elevator
Above and Beyond Elevator offers a broad assortment of residential elevators and dumbwaiters across Massachusetts and Rhode Island. As an authorized Inclinator Company of America® dealer, the company features some of the most innovative and safest residential elevator equipment on the market. As a full-service solutions provider, Above and Beyond offers a wide range of elevator services to residential and commercial customers throughout the region.
About Above and Beyond Elevator
Above and Beyond has more than 35 years of elevator industry experience. The company strives to achieve the highest standards for professionalism and craftsmanship while paying close attention to the smallest details. Above and Beyond can handle installation jobs of any size or scope, including "outside the box" projects. Over the years, the company has earned the trust of builders, designers, architects and homeowners across the region.
Available Products and Services
The Above and Beyond product selection includes Inclinator private residential elevators in an assortment of cab style options. Inclinator elevators can fit in a space as small as a standard closet, ensuring a customizable, cost-effective solution.
You'll also find a selection of residential and commercial Inclinator dumbwaiters to transport heavy items between floors. Available service offerings include installation, maintenance, repairs, modernization and state inspections.
Safety and Reliability Is the Top Priority
Inclinator products include features such as door baffles that can prevent falls by covering the gap between doors. Their careful design and solid construction ensure many years of reliable service.
Contact Above and Beyond Elevator to Learn More
Above and Beyond operates an office and warehouse at 501 John Scott Boulevard in Norton, Massachusetts. Call (781) 234-4415 to learn more about their products and services today. You can also fill out and submit their online contact form.
ABOVE AND BEYOND ELEVATOR

ABOVE AND BEYOND ELEVATOR
501 JOHN SCOTT BLVD,
NORTON, MA 02766
Sales Representative:
ELLIE HAHL
aandbelevator@gmail.com
781-234-4415
Contact ABOVE AND BEYOND ELEVATOR