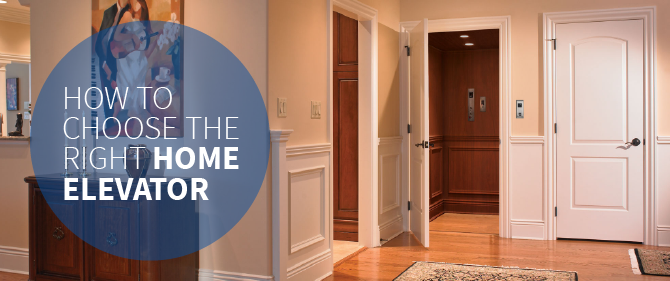 Residential elevators are quickly becoming a common fixture and a convenient addition in American homes.
Choosing a home elevator that's perfect for your home can provide you with an asset that offers convenience for years to come. A home elevator can save you money, increase your home's value and provide accessibility in later years.
Why Install a Home Elevator?
More and more families are choosing to install residential elevators for reasons that include:
1. Improves Home Mobility for Aging in Place
"Aging in place" refers to seniors who want to enjoy the security and independence that comes with living by themselves in their own houses for as long as they can. Opting to do this is becoming quite common. AARP reports that 87 percent of seniors would prefer to live out their golden years in their own homes. Doing so can often mean changing your front door's accessibility, adding grab bars throughout the house and making modifications to your shower and tub areas.
One of the most significant concerns about older adults living by themselves as they age is the increased risk of falling and injuring themselves. Millions of seniors go to the emergency room every year due to falls. Because many people do not want to risk going up and down stairs when they grow older, they end up selling their two-story dream homes and moving into single-story houses where they no longer have to climb stairs.
Adding a home elevator is an alternative mobility option that can allow you to stay in your home — while also being less costly than moving into a one-story home of the same size. Moving to a whole new home instead of staying in your current home often comes with financial, logistical and emotional costs.
2. Increases the Resale Value of Your Home
Installing an elevator in your home can significantly boost its resale value. Prospective buyers are often drawn to homes with elevator access, as they are also thinking about the future and if and when their mobility may be limited.
Even if you do not plan to take advantage of the equity your home elevator offers, you can still consider the positive boost it brings to your home's value.
3. Fits With Home Decor and Style
Conveniently, your residential elevator finishes can match the rest of your home, including the trim, flooring and door, which can look just like the other doors in your home.
With the door closed, the call button may be the only hint that there's an elevator behind it.
How Do You Choose a Residential Elevator?
Finding the perfect home elevator requires you to make many decisions, including the right manufacturer and vendor, the right drive system and the right style for every component.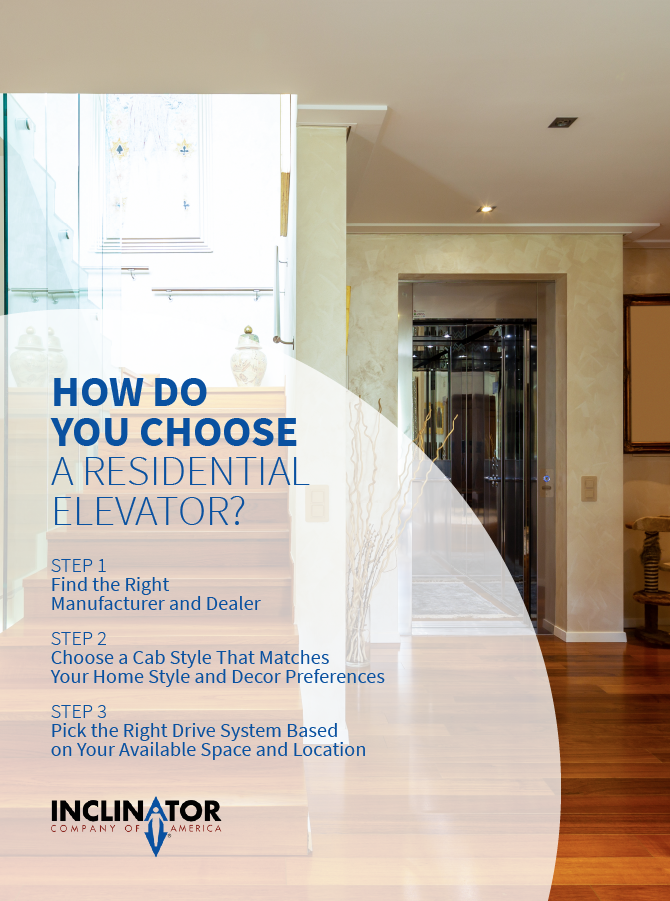 Step 1: Find the Right Manufacturer and Dealer
Connecting with a manufacturer and vendor early in your process sets you up for a successful project from the start. Partnering with a reliable vendor means you can rely on them to guide you through customization options and give you a pretty accurate cost estimate. Knowing your budget and what options will work with your budget is another way a professional, reputable vendor can serve as your buyer guide for a home elevator.
When shopping for a reliable residential elevator brand and dealer to perform your elevator installation, choose one that is:
Reputable: Read customer reviews of home elevator manufacturers in your area, read contractor listings and ask previous customers for references. The more positive testimonials you receive from past customers, the more confident you'll feel about your choice. Pick a reputable manufacturer that has a history in the industry.
Experienced: Again, confirm they've been in business for many years. Home elevator manufacturing and installation requires that many local and national safety codes are met — which means experience is critical. One good indication that a business is experienced is that it belongs to professional organizations such as the Association of Members of the Accessibility Industry (AEMA) and National Association of Home Builders (NAHB). The NAHB provides a designation known as Certified Aging-In-Place Specialist (CAPS), which means that the representative from the domestic elevator company is well-versed in the modifications required for homeowners who want to age in place.
Customizable: When looking for a home elevator, regardless of whether it's for a new house under construction or an existing home, you're searching for a special new addition to your home. You'll want your elevator to blend seamlessly with the house around it, so you'll want every detail to be right — including the flooring, cab material, lighting and gate. The more customization options available to you for each elevator component, the more likely you can design an elevator that matches your house perfectly.
One important feature to look for is the maintenance or repair service plans offered by the company or vendor, and what those plans cover. While a total break is unlikely, knowing you can get reliable, trustworthy and quick service should you have an emergency repair need is a valuable offering. If you install a home elevator and come to depend on it for mobility and access between the floors of your home, having it out of commission becomes more than a minor inconvenience. Preventing more substantial repairs can best be done by regular tune-ups and maintenance. Catching potential problems early often leads to reduced repair costs because you are focusing on proactive maintenance instead of reactive repairs. And even before you get to a repair stage, knowing you've selected a professional who can install the elevator safely and properly — in the right location in your home and with features and sizing appropriate for your space — helps ensure efficient and safe functionality for many years of use.
Look up your manufacturer in the Better Business Bureau (BBB). The BBB is considered to be an unbiased source of information on the reliability of local businesses and has information on over three million organizations in North America. The BBB's job is not to assess the quality of a business's services or products or recommend one company over another. Instead, its role is to make information about businesses available to consumers. By looking up your manufacturer and dealer in the BBB, you can find out whether or not they respond promptly and satisfactorily to the complaints of their customers, whether they've ignored or mistreated them and whether they've received BBB accreditation.
The installation of a home elevator is a process that professionals should perform — it requires the coordination of multi-disciplinary tradespeople and proficiency in various code requirements. By hiring a licensed, experienced elevator technician, you can be sure that your home elevator installation will meet all local and national codes, which is necessary for your safety.
Step 2: Choose a Cab Style That Matches Your Home Style and Decor Preferences
The next step you want to take when building your elevator is picking the perfect cab style.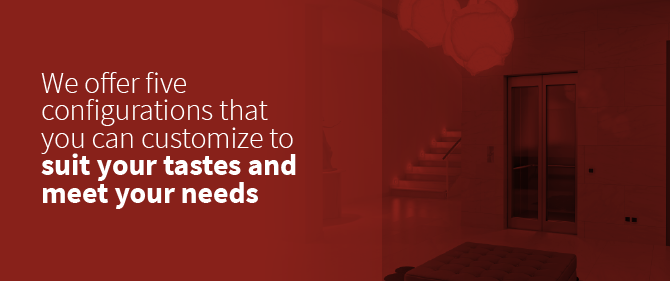 At Inclinator, we offer five configurations that you can customize to suit your tastes and meet your needs:
100 Cab: The 100 Cab style features walls that you can paint any color you wish to match the decor of your home. It also comes with a white ceiling and high-quality laminate flooring with a beautiful wood finish.
200 Cab: Featuring hardwood walls, which add texture and warmth to the elevator, the 200 Cab style is available with both light and dark styles.
300 Cab: Available in dark or light wood and with decorative molding — including a chair rail, picture frame, baseboard and crown — the 300 Cab offers an elegant appearance. Various wood grains are also available, making it easy to match the decor of your home.
400 Cab: The luxurious 400 Cab features solid rich wood with decorative molding, trim and panels. 2-panel and 4-panel designs are also available, as well as a vast array of custom accessories and finishes.
500 Cab: The modern 500 Cab stands out for its clean lines, maximum visibility and elegant appearance. Its aluminum frame comes in white, black and silver.
All Inclinator Cabs are compatible with our offered drive systems.
Step 3: Pick the Right Drive System Based on Your Available Space and Location
Although you often don't see it, your drive system powers your elevator and is one of its most essential components.
Drive systems usually fall into one of the following categories: hydraulic or cable. The drive system you choose depends on what you need and how your home is laid out. Make sure to speak with your dealer, builder or architect to figure out which system is most suitable for your home.
Hydraulic Elevators
A hydraulic elevator pumps hydraulic fluid through a valve into the hydraulic arm's cylinder. Then, the fluid's pressure causes a piston to rise, pushing the elevator up with it. Rides are smooth, and quiet.
Hydraulic elevators need space for a reservoir and hydraulic pump and need to be serviced and maintained more frequently — maintenance usually involves making sure the hydraulic fluid level is appropriate, the electric pump stays in good condition and the valves allow for proper flow of the hydraulic fluid.
Cable Elevators
Cable-driven elevators use a motor and drum unit, which is found at the top of the shaft, and two cables, which are connected to the drums to transport the cab. The purpose of the drums is to wind up the cable to pull up the cab and spool the cable out to let it down. The motor turning the drums is controlled by a variable-frequency drive, which can control the speed of the elevator smoothly.
Cable elevators have dimensions that are similar to those of a hydraulic elevator, but they don't a large space for a machine room.
Here are some of the specifications for the drive systems we offer at Inclinator:
Elevette® Cable Drum: The Elevette Cable Drum uses a space-saving monorail-guiding system and is the most compact drive system we offer. It's also quieter than any other cable drum elevator available today and can serve up to six landings.
Elevette® Hydraulic: This hydraulic drive system features our patented HydraRide system and provides a quiet, smooth ride. It uses considerably less fluid than other brands of hydraulic elevators.
Elevette® MRL Overhead Cable Drum: This cable drum drive system was designed for a smooth, quiet ride and runs on two guide rails that are custom-formed, enhancing the elevator's stability. This drive is highly suitable for split-level homes, as it features the lowest minimum distance required between floors. As well the MRL does not require a machine room.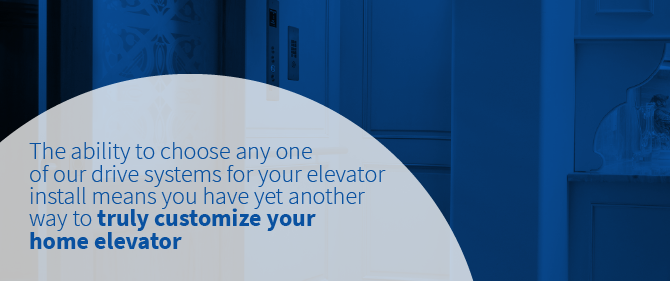 The ability to choose any one of our drive systems for your elevator install means you have yet another way to truly customize your home elevator and pick a system that works best with your home configuration, budget and preferences.
Step 4: Select a Gate and Door Configuration
To customize your home elevator, one of the simplest decisions you need to make is picking a safety gate, which comes in many colors and materials. You also need to choose the number of openings in your elevator so you can accommodate the traffic patterns in your house.
At Inclinator, our residential elevators are designed to accommodate one or two openings and are available in a maximum of 18 configurations. We build our elevators to adhere to the strictest safety standards, and our fold gates are no exception. In fact, our home elevators won't even operate if the gate isn't completely closed and free of obstructions.
Our gates have been styled to complement the style of your cab and your home. For this reason, we offer a wide variety of accordion and collapsible gate styles. Our accordion fold gates even come with automatic gate operators to make them safer and easier to use.
Step 5: Finalize Your Home Elevator Customizations
Inclinator is proud to offer the most customizable elevators of any brand on the market. We provide options for every single aspect of your cab, so it'll be easy to get creative with your design.
Below are examples of the options we offer for each component of your cab:
Walls: Your elevator walls can be customized with practically any wood finish that you can imagine. These include everything from the popular hardwoods to the most exotic varieties. Although most of our cabs are finished in our factory, you can choose to have them delivered unfinished so that you can finish it on site.
Floors: Our elevators all include high-quality laminate floors with wood grain simulation. You can also choose to have the flooring unfinished so that you can finish it yourself.
Ceilings: The 100 Cab comes with a white standard laminate ceiling, and for our 200, 300 and 400 cabs, you can choose between a white or wood ceiling, allowing you to match the wood on the elevator walls.
Handrails: For the handrails, you can choose between round metal or decorative wood. Many different finishes are also available.
Lights: By default, your elevator will be lit up with two lights, although you can add more if necessary.
Operation Panels: For your hall station and cab operating panel, you have a choice between one of three finishes. Raised and flushed styles are available.
Tips for Shopping for a Home Elevator
When it comes time to pick out the perfect home elevator, here are few useful pointers:
Request an in-home consultation: As mentioned above, the most suitable elevator for your home in part depends on the layout of your home. Have a representative from the company come to your home and determine which elevator type is most suitable for your space.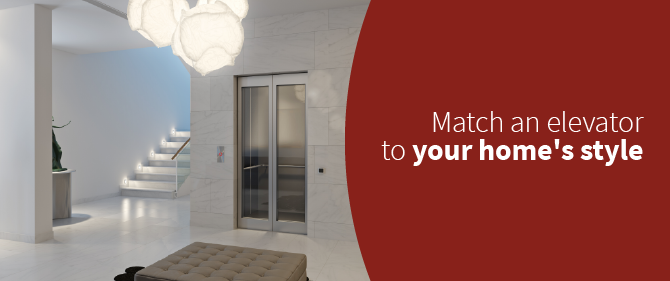 Match an elevator to your home's style: Before deciding on the style of your elevator, make sure to identify the style of your home. Is it modern or traditional? Romantic or vintage? Regardless of what the style is, make sure that your home elevator matches or complements it. For instance, do you want a modern appearance, and would a glass shaft with metal trim work best? Perhaps solid wood with recessed or raised panels is a excellent option for the foyer of your colonial-style home.

Order Your Home Elevator From an Inclinator Dealer Today
Inclinator manufactures the industry's safest, most reliable and most customizable home elevators — allowing them to fit into practically any space with a high degree of precision.
But Inclinator isn't just the leading manufacturer of customizable elevators — it was also the first to bring them to American homeowners. For almost a century, we've been providing American-made residential elevators to homes across the country — and plan to continue to do so for many years to come.
As every one of our elevators is crafted individually with great skill, customizing your elevator is simple and worry-free. Home elevators are a valuable investment, and the increase in home value that results is often greater than the costs of installing the elevator. And when the time comes to sell it, a home elevator will allow you to sell it to a bigger market.
Browse the styles and resources on our site, find an Inclinator dealer today or contact us with any questions.
More Reasons to Install a Home Elevator:
Latest posts by Cliff Warner
(see all)